Election of Board of Directors
In accordance with Hutchinson Chamber of Commerce & Tourism By-Laws Article V, Sections 3, 4 and 5, the following candidates have been recommended to serve on the Board of Directors for the indicated terms.
Any question or petitions may be direct to Mary Hodson by phone 320-234-0785 or by email [email protected] and will be presented to the Nominating Committee.
Section 3 – Publicity
5.3.1 Upon receipt of the report of the Nominating Committee, the President shall be instructed to notify the membership of the names of the persons nominated as candidates for directors, the right of persons nominated as candidates for directors and the right of petition as provided in these By-Laws. A list of candidates so nominated shall be kept on file in the Association office.
Section 4 – Petition
5.4.1 Additional names of candidates for directors can be nominated by petition bearing the genuine signatures of at least five (5) qualified members of the Association. Such petition shall be filed with the Nominating Committee withing ten (10) days after notice has been given of the names of those nominated. The determination of the Nominating Committee as to the legality of the petition shall be final.
Section 5 – Determination
5.5.1 If no petition is filed within the designated period, the nomination shall be closed and the nominated slate of five (5) candidates shall be declared elected upon a 2/3 vote approval by the Board of Directors at their regular October Board meeting.
5.5.2 If a legal petition presents additional candidates, the names of all candidates shall be arranged on the ballot in alphabetical order. Instructions will be to select five (5). Identification shall be made on the ballot to identify those candidates nominated by the Nominating Committee. The usual election procedure shall prevail.
Recommended Candidates: Paul Jossart, Tara Tepley & Don Martinez
---
Taste of the Holidays

The Hutchinson Ambassadors will be hosting the Taste of the Holidays on Thursday, November 15 from 5:00PM – 8:00PM at the Crow River Winery. Advance Tickets are $15 and go on sale Thursday, October 11th. Tickets can be purchased from a Hutchinson Ambassadors or at the Chamber office. There are limited tickets each year and this event has sold out several years. As a result, make sure to get your tickets early! for more information, visit the Hutchinson Ambassadors Facebook Page.
---
44th Annual Arts & Crafts Festival – THANK YOU!
On September 14 & 15, we held our 44th Annual Arts & Crafts Festival and Taste of Hutchinson. We had a spectacular weekend! Once again the Festival was a huge success, but would not have been possible without the help of some incredible volunteers and workers.
Thank you to the MANY businesses that make adjustments to allow the Festival to bring 12,000 people to our community. 12,000 people shopping at the event (tax revenue), shopping/eating/staying/playing at local businesses (wages, tax base revenue) and TOURISM!
Did you know many people share with us that they come back to Hutchinson because they feel endeared to our community? They enjoy our shops, restaurants, trails and parks, friendly services and kindness. What a great legacy to have in the state of Minnesota!
We would like to thank the following businesses for their support at the Arts & Crafts Festival:
SPONSORS: Advance Auto Parts, AG Systems Inc, Animal Medical Center on Crow River, Ashley Furniture Homestore, Buffalo Wild Wings, Crow River Winery, Elena's Bakery, Goebel Fixture Company, Keller Williams Integrity – The Broll Team, McCormick's Family Restaurant, Nuvera, Rahk Studios & Stamp-N-Storage
CHAMPION SPONSORS: MidCountry Bank, MITGI, TDK Hutchinson Technology Inc & Uponor
VISIONARY SPONSOR: Citizen's Bank and Trust Co
We would also like to put a spotlight on the backstage people of Arts & Crafts. Thank you for your support, as well as a special THANK YOU to Hutchinson Police Services for keeping this event safe and for all the hard work they do during this busy weekend.
Cash Wise Foods, City of Hutchinson, Hutchinson Park & Rec, Hutchinson Police Services, Kwik Trip, ShopKo, Walgreens & West Central Sanitation
Again, THANK YOU to everyone that helped out with this event. We hope to see everyone again next year!
---
Farm Fatigue / Bucket of Thanks Event – THANK YOU!
Each Fall the Hutchinson Agri-Business Committee along with the Glencoe Agri-Business Committee gather donations of food, wellness and safety items from Chamber Members. The donated items are packed and hand delivered to the local farmers out in the field during harvest time. These items are sincerely appreciated by the farmers.
Thank you to all the businesses that donated items this year and a special thank you to the Agri-Business Committees for making this event such a huge success!
Click here for a full list of businesses that donated items (pdf) this year!
---
Annual Banquet – Save the Date!
---
Business of the Month
The October Business of the Month is Hutchinson Public Schools.
Read more about the Hutchinson Public Schools in our Business of the Month article and make sure you check out PDF insert at the bottom of our newsletter for some events happening at the High School this October.
---
New & Returning Chamber Members
We would like to welcome our new members to the Hutchinson Chamber of Commerce!
We also want to thank the following members for renewing their partnership with us!
B&C Plumbing and Heating
Compass Occasions
Down with Diabetes Alliance
Edward Jones – Dean Winter
Home State Bank
Hutchinson Housing & Redevelopment Authority
Innovative Foam
Quilt Haven on Main
St. Anastasia Catholic Community
Terning and Ross Company
Wheel & Cog Children's Museum
---
The Hutchinson Ambassadors serve as the welcoming and social arm of the Hutchinson Chamber by actively supporting and promoting Hutchinson and its surrounding business community.
The Ambassador's Facebook page is a great place to see photos of all the visits and other special events hosted by the Ambassadors.
You may have seen our Ambassadors around town – you can recognize them by their blue shirts and friendly smiles. They welcome new business openings, as well as, celebrate business renovations and milestones with an Ambassador Business Visit.
September's Ambassadors Business Visits:
No visits were scheduled in September as the Ambassadors were hosting the Taste of Hutchinson September 14-15.
Business After Hours is a great way to learn about businesses in Hutchinson and network with fellow Chamber Members. This is a way to get behind-the-scenes in our local businesses… to see what they make, do or provide. This monthly event is Chamber invitation only and is open to all Chamber Member business employees. Businesses interested in hosting a Business After Hours event or would like more information should email the Ambassadors.
October's (Business) TigerPath After Hours will be held on Thursday, October 11 from 4:00PM to 6:00PM at:
TigerPath After Hours – Hutchinson High School's Center for Technical Excellence
If you are the only primary representative with your business receiving emails from the Chamber, please invite all your employees to join us! Preregistration is strongly encouraged, so our business hosts may plan accordingly.
Click here to register online for October's TigerPath After Hours or call the Chamber at 320-587-5252.
---
Something from Mary!
I'm constantly amazed at what people will or will not complain about.
Some are content with whatever is put in front of them, others… well they complain about not having something to complain about.
The rest of Mary's article can be found on October's Something from Mary blog.
---
Quarter 4 Table Tent are Here!
Are you looking for a way to boost an upcoming Hutchinson event? The Chamber prints and delivers over 900 table tents around the community. Make sure you get your event added to the Chamber's table tents. The cost is $30/event listing for community members and Chamber Members receive a $10 discount per event listing.
Also, make sure you add your events to the Chamber's online Community Calendar. The Community Calendar averages about 100 views a day, so don't forget to utilize it! Submitting an event to the Community Calendar may be done through your Chamber Member Portal or you can go directly to the Community Calendar page!
The deadline for Quarter 1 (January, February & March 2019) is December 1, 2018.
If you want table tents delivered to your business or if you want to submit an event for an upcoming table tent, please contact Gina by phone 320-234-0786 or by email [email protected].
---
Upcoming Save the Dates
November 15, 2018 = Taste of the Holidays
November 24, 2018 = Small Business Saturday
January 18, 2019 = Annual Chamber Event
---
More information for your business to grow…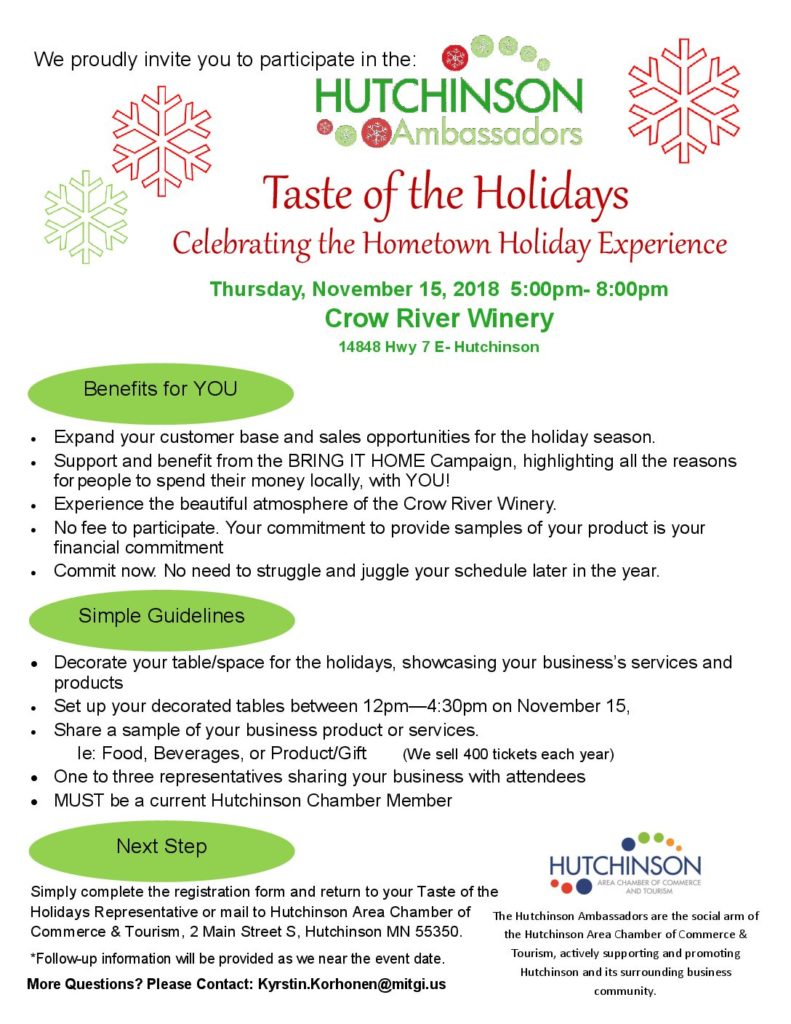 ---