Taste of the Holidays
Don't wait to purchase your ticket to this year's Taste of the Holidays! This very popular event sells out every year!
Tickets are $15 and can be purchased from an Ambassador or at the Chamber office. No tickets will be sold at the door – advanced sales only.
Come out and enjoy the evening. Hopefully you will find some great holiday gift ideas too. There will be many vendors with samples of tasty treats and beverages. Hope to see you there!
2018 Taste of the Holidays poster (pdf)
2018 Taste of the Holidays Vendor Information & Registration form (pdf)
---
Small Business Saturday
Do your holiday shopping on Small Business Saturday and support our community in a big way! Small Business Saturday is one of our favorite community events. This year the Chamber will be  hosting a block party on Saturday, November 24 from 10:00 AM to 12:00 PM on Washington Avenue, the block east of Main Street. Come check out our Welcome Station that includes information, giveaways, cookies, cider, refreshments and at 10:00 AM we will be dropping 100+ ping pong balls for you to gather and redeem at the Welcome Station for local gift cards.
2019 Small Business Saturday poster (pdf)
Also new this year, is our thinkLOCAL campaign. This campaign will replace Bring It Home campaign with a new logo, new ideas, new support for our local businesses and education for consumers. Be watching for more information!
---
Annual Banquet & Community Awards
Are you ready for "A Night Under the Stars"?  
This year's Chamber Annual Event will be an 80s Prom theme, and will be held on Friday, January 18, 2019, from 5:30 PM to 10PM at the Crow River Winery.  It will be Totally Tubular!
To register for the 2019 Annual Event use our online Annual Event Registration Form or by mailing/emailing a printable Annual Event Registration Form to the Chamber by Friday, January 11, 2019.
The Hutchinson Chamber of Commerce and the Hutchinson Jaycees, in a joint effort, are proud to award deserving individuals their Community Awards. Do you know someone in our community that is doing great things? Nominate them today!
Submit your nomination using the online Community Award Nomination Form or by mailing/emailing a printable Community Award Nomination Form (pdf) to the Chamber by Thursday, December 20, 2018.
Awards are given for: 

Business Person of the Year, 

Volunteer of the Year, 

Teacher of the Year and 

Young Leader of the Year (under 35 years of age).

A recipient can only win an award in any given category once – nominees who have won a specific award in years prior  cannot be considered for that award again.
Award winners will be recognized at the Chamber Annual Event on Friday, January 18, 2019.
Award winners will be video-taped prior to the event, as well as possibly the nominator.
Award winners will be informed of the awards before the event.
Award winners will attend the event at no charge.
---
Farm Fatigue Bucket of Thanks & Ag Seminar!
Another year of Farm Fatigue's Buckets of Thanks have been delivered. We extend our sincere thanks to those businesses that donated (pdf). We would also like to send a special shout out to those who helped collect, package and deliver the buckets. This special delivery would not be possible without you!
ATTENTION – The University of Minnesota Extension and the Hutchinson Chamber are proud to be hosting the 2019 Crop Management Input Seminar.  The seminar is set for Thursday, December 6, 2018, from 9:00 AM to 2:15 PM at the Hutchinson Events Center. The seminar will provide education on crop production, brain health and cash flow planning, as well as, handouts and a catered noon meal.
Please RSVP to the Extension Office by Monday, November 26, 2018. They can be reached by phone at  320-484-4334 or by emailing [email protected].
2019 Crop Management Input Seminar poster (pdf)
---
2019 Tourism Marketing Grant
Since 2013, the Chamber has enjoyed granting money to events hosted by nonprofits and for-profits held in Hutchinson. These grants help cover the expense of marketing that covers a radius outside the Hutchinson area for the event. These events help the Chamber bring more people to our beautiful and welcoming community – there really is #MuchInHutch!
Tell your friends, co-workers, committees and organizations about the Chamber's Tourism Marketing Grant. We love to help events as they help us and increase the traffic and awesomeness of Hutchinson!
More information about the Tourism Marketing Grant program, grant criteria and grant application can be found on our Tourism Marketing Grant blog.
2019 Tourism Marketing Grant Criteria, Deadlines and Grant Application (pdf)
---
Business of the Month
Throughout the month of November, we celebrate and recognize Small B
usiness Saturday in place of an individual business.
Read our Business of the Month article for more details on what Small Business Saturday is and the details for this year's event. You can also check out the 2018 Small Business Saturday Facebook page for more exciting information!
---
New and Returning Chamber Members
We would like to welcome our new members to the Hutchinson Chamber of Commerce!
Sonora's Mexican Restaurant
We also want to thank the following members for renewing their partnership with us!
Jonny Block
Qdoba Mexican Grill
Upper Midwest A-C Club
---
The Hutchinson Ambassadors serve as the welcoming and social arm of the Hutchinson Chamber by actively supporting and promoting Hutchinson and its surrounding business community.
The Ambassador's Facebook page is a great place to see photos of all the visits and other special events hosted by the Ambassadors.
You may have seen our Ambassadors around town – you can recognize them by their blue shirts and friendly smiles. They welcome new business openings, as well as, celebrate business renovations and milestones with an Ambassador Business Visit.
October's Ambassador Business Visits:
Business After Hours is a great way to learn about businesses in Hutchinson and network with fellow Chamber Members. This is a way to get behind-the-scenes in our local businesses… to see what they make, do or provide. This monthly event is Chamber invitation only and is open to all Chamber Member business employees. Businesses interested in hosting a Business After Hours event or would like more information should email the Ambassadors.
If you are the only primary representative with your business receiving emails from the Chamber, please invite all your employees to join us! Preregistration is strongly encouraged, so our business hosts may plan accordingly.
No Business After Hours event will be held in November as the Ambassadors will be hosting the Taste of the Holidays at the Crow River Winery on Thursday, November 15 from 5:00 PM to 8:00 PM.
---
Something from Mary!
What's the big deal?
I can't keep calm. SMALL BUSINESS SATURDAY is coming!
It's November, the leaves are changing, the air is crisp and we are warming up the red scarves to give away… MONEY!
Wait. What?
The rest of Mary's article can be found on November's Something from Mary blog.
---
2019 Quarter 1 – Table Tent Deadline – December 1, 2018
Are you looking for a way to boost an upcoming Hutchinson event? The Chamber prints and delivers 900 table tents around the community. Make sure you get your event added to the table tents! The cost is $30/event listing for community members and Chamber Members receive a $10 discount per event listing.
Also, make sure to add it to the Chamber's online Community Calendar. The Community Calendar averages about 100 views a day, so don't forget to utilize it. Submitting an event to the Community Calendar may be done through your Chamber Member Portal or you can go directly to the Community Calendar page.
The deadline for Quarter 1 (January – February – March 2019 events) is December 1, 2018.
Submit an event for an upcoming table tent by mailing/emailing this printable Table Tent Entry form (pdf) by the quarterly deadline to Gina or stop by the Chamber office. If you want table tents delivered to your business or if have any questions, email Gina
or call the Chamber.
---
Upcoming Save the Dates
November 15, 2018 = Taste of the Holidays
November 24, 2018 = Small Business Saturday
January 18, 2019 = Annual Chamber Event & Community Awards
---
More information for your business to grow!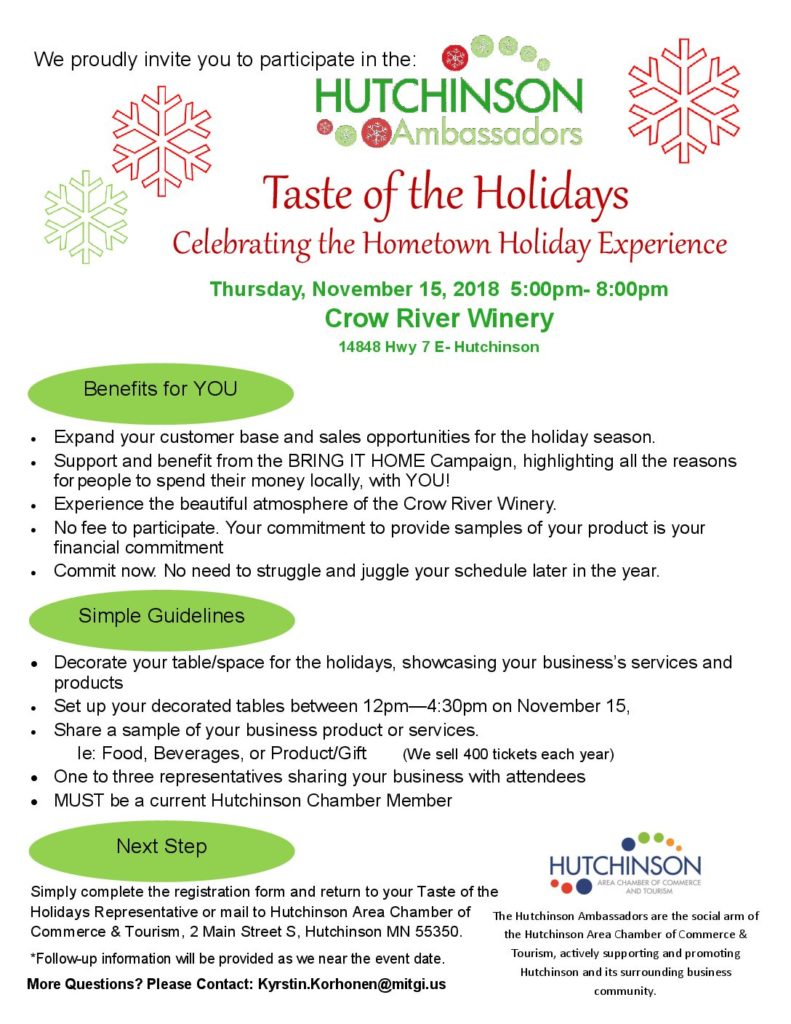 ---
---