Thank you for your support at the Chamber Annual Event and Congratulations to the 2020 Community Award Winners!
Thank you to everyone who helped make the 2020 Chamber Annual Event – Hutch-Opoly a huge success! A special thanks to our event sponsors. Our deepest gratitude to them for supporting our event.
Visionary Sponsor: Citizens Bank and Trust Co.
Welcome Sponsor: MITGI
Event Sponsors: 3M, ATHC, Hutchinson Health, and Uponor
In-kind Sponsors: CineMagic Century 9 Theatre, Crow River Winery, Innovative Foam, Kock's Jewelry, Muddy Cow, and Oakdale Golf Course
The Hutchinson Chamber of Commerce and Hutchinson Jaycees are excited to announce the Community Award winners. The winners are (from left to right) Young Leader of the Year – Luke Krueger, Volunteer of the Year –Mavis Schwanke, Teacher of the Year – Gloriann Heikes, and Business Person of the Year – Dean Bertram.
You can find more pictures from this event here:  Hutchinson Chamber's Facebook page
---
Passing of the Gavel – Chamber Board Chair
The Chamber takes this opportunity to thank 2019 Chamber Board Chair Roman Bloemke for his service to the Board and to each of us in the past year; and we welcome the 2020 Chamber Board Chair Beth Gasser into that position.
The Chamber would also like to thank outgoing Chamber Board Member Keith Heikes for his committed service.
---
Passing of the Gavel – Hutchinson Ambassadors
The Chamber takes this opportunity to thank 2019 Ambassador President Leah Watzke  for her service to the Ambassadors and to each of us in the past year; and we welcome the 2020 Ambassador President Matt Bielke  into that position.
---
2020 Tourism Marketing Grant Deadline – March 1st
Grant applications are due by March 1, 2020! Click the link below for more information.
Since 2013, the Chamber has enjoyed granting money to events held in Hutchinson hosted by nonprofits and for-profits. These grants help cover the expense of marketing that covers a radius outside the Hutchinson area for the event. These events help the Chamber bring more people to our beautiful and welcoming community – there really is #MuchInHutch!
Tell your friends, co-workers, committees, and organizations about the Chamber's Tourism Marketing Grant. We love to help events as they help us and increase the traffic and awesomeness of Hutchinson!
More information about the Tourism Marketing Grant program, grant criteria, and grant applications can be found on our Tourism Marketing Grant blog.  Grants will be awarded March 31, 2020 for applications returned by March 1, 2020.
2020 Tourism Marketing Grant Criteria, Deadlines and Grant Application (pdf)
---
Quarter 2 Table Tents – Deadline March 1st
The deadline for Quarter 2 Tables Tents is just around the corner, be sure to get your entry in today!
Due to a lack of entries, Quarter 1 Table Tents were not printed. We have had countless inquiries about where they are. Many people rely on them to know what is happening in Hutchinson. What a great marketing opportunity for your event! Table tents are a quick, easy, and inexpensive way to reach Hutchinson area residents and visitors.  The Chamber prints and delivers over 900 table tents around the community. Make sure you get your event added to the Chamber's table tents.
The cost is $30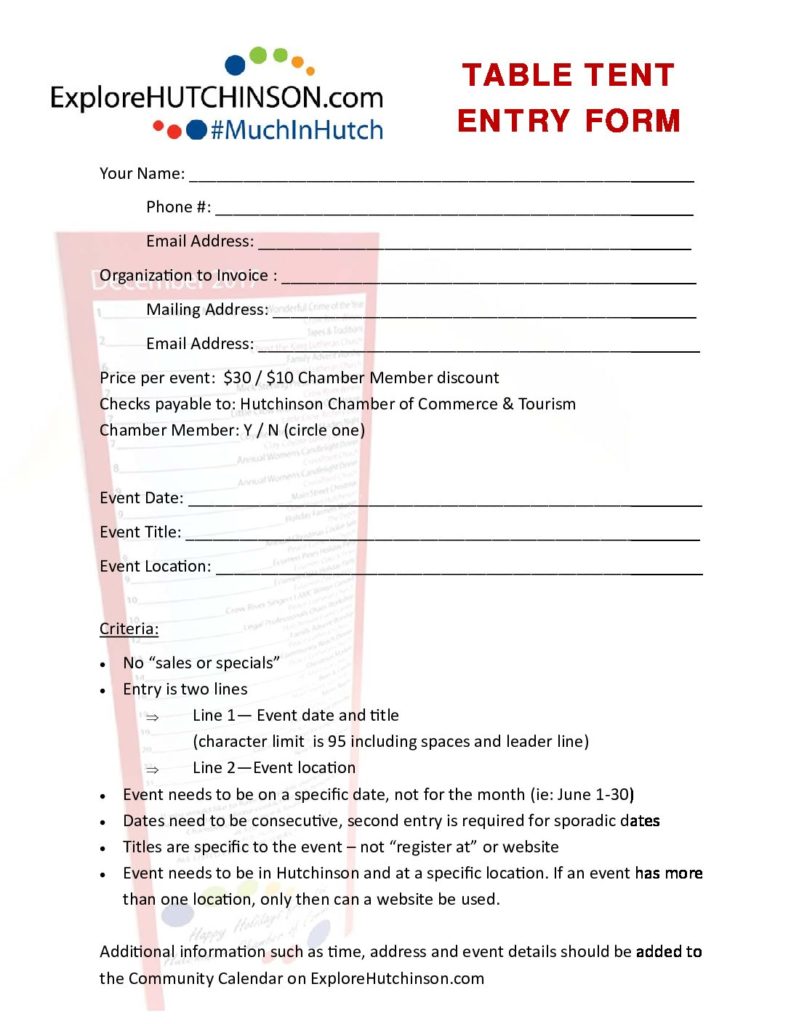 per event listing for community members. Chamber Members receive a $10 discount per event listing. Submitting an event is easy… just complete the printable Table Tent Entry Form and mail, email or drop it off at the Chamber.
Also, if you submit an event to our table tents, make sure to add it to our Community Calendar. The Community Calendar averages about 100 views a day, so don't forget to utilize it! Submitting an event to the Community Calendar may be done through your Chamber Member Portal or directly on the Community Calendar page!
The deadline for Quarter 2 (April, May & June) is March 1.
If you want table tents delivered to your business or if you want to submit an event for an upcoming table tent, please contact the Hutchinson Chamber by phone 320-587-5252 or by email
---

Please join us for March's Business Connection hosted by Health Source Chiropractic on Friday, March 6th from 7:00 AM to 8:00 AM.
Business Connection is a morning networking event that takes place at a Chamber business on the first Friday of each month from 7:00 AM to 8:00 AM. Chamber Members are invited to gather, enjoy coffee and a light breakfast, and share a quick update or information on their business/organization. We will always have a Chamber update for you as well.
Door prizes will be given out, so make sure you bring your business card to be entered into the drawing. This networking opportunity is a great way to know people in the community and keep in touch with Hutch!
If you are part of a Chamber business/organization and interested in attending, please register online via the link provided below. Multiple guests per organization are welcome, just remember to register!
Please join us for the Next Chamber Business Connection at:
HealthSource Chiropractic
Friday, March 6th from 7:00 am to 8:00 am.
Thank you to February's Business Connection host – St. Anastasia's.
Invitation to Business Connection & Business After Hours
Please extend an invitation to Business Connection and Business After Hours to your employees.  All Chamber Members and their employees are welcome to these programs. Please remember to register for the events through the links provided in this newsletter.
---
Maximize Your Membership!
Job Postings for Chamber Members — Are you looking for qualified applicants to fill open positions at your business? Post you job openings on ExploreHutchinson.com through your Chamber Membership. Use us as a trustworthy resource to get the word out about your available positions. We reference these job postings and share them on our Facebook page! Click on the image below for instructions, or call the Chamber with questions.
---
Business After Hours is a great way to learn about businesses in Hutchinson and network with fellow Chamber Members. Get behind the scenes access to our local businesses… see what they make, do, or provide for our community. This monthly event is open to all Chamber Member business employees or by a Chamber invitation. Registration is advised. Businesses interested in hosting a Business After Hours event, or seeking more information should email the Hutchinson Ambassadors.
If you are the only primary representative with your business receiving emails from the Chamber, please invite all your employees to join us! Preregistration is strongly encouraged, so our business hosts may plan accordingly.
February's Business After Hours will be held on
Thursday, February 13th from 4:00 PM – 6:00 PM at
Edina Realty, located at 904 Highway 15 S, Hutchinson, MN
Click here to register for February's Business After Hours or call the Chamber at 320-587-5252.
March's Business After Hours will be held on
Thursday, March 12th from 4:00 PM to 6:00 PM at
B & B Sports & RV  20271 MN-15, Hutchinson, MN
Registration coming soon!
---
New & Renewing Chamber Members
We would like to welcome our new members to the Hutchinson Chamber of Commerce!
Berger Plumbing, Heating & Air Conditioning
Larson Building Inc.
We  want to thank the following members for renewing their partnership with us!
Ace Hardware
Adara Home Health
Applebee's Bar & Grill
Area 22 Paintball
Buffalo Wild Wings
Cal-Tex Companies
CenBank
Cobblestone Hotel & Suites
Collin Peterson
Crow River Golf Club
Disabled American Veterans (DAV)
Dostal Electronics Center
Echo Family Dental
Ecumen Oaks & Pines
Excelsior Homes, Inc.
FRF Productions
Hager Jewelry Inc
Harmony River Living Center
Hillyard, Inc.
Hjerpe Contracting, Inc.
Holiday
Hometown Realty, Inc.
Hutch Café
Hutchinson Area Dollars for Scholars
Hutchinson Bus Line, Inc.
Hutchinson Center for the Arts
Hutchinson Elks Lodge 2427
Hutchinson Health
Hutchinson Kiwanis Club
Hutchinson Lions
Hutchinson Rotary
James Young & Associates, Ltd.
Kock's Jewelry, Inc.
Larry & Connie Fraser
Legend Companies
Little Crow Archery Club
Masterson Staffing Solutions
Maurices
McDonald's
McLeod Cooperative Power
McLeod County Abstract & Title Services
McLeod County Fairgrounds
New Discoveries Montessori Academy
New Era Financial Group, Inc.
Nuvera
Oakdale Golf Club
Parkview Dental
Piehl, Hanson, Beckman, P.A.
Primary EyeCare
Quade Electric
RAM Buildings, Inc.
Regional Eye Specialists, P.A.
Ridgewater College
River of Hope Lutheran Church ELCA
Runnings
Sheila Murphy
SNAP Fitness
Sonora's Mexican Restaurant
South Skyview Estates
Southwest Initiative Foundation
State Farm Insurance, Steve Kropp
Title Mark
Tri County Water Conditioning, Inc.
Uponor
Viking Signs
West Central Industries
Wetterling & Roepke Financial Services
Zellas
---
Business of the Month
February's Business of the Month is Chamber Member Hager Jewelry. This locally owned full-service jeweler has been been in operation since 1913! You may recognize them by their signature clock outside their downtown location. They offer watch and ring repair, customization, and a full retail store. To learn more about Hager Jewelry click here.
The Chamber's Business of the Month program is a free marketing opportunity that is only available to Chamber Members. The featured business will be interviewed on KDUZ by Mary, the business logo and company information will be featured on the Chamber's website for one month, in the Chamber's monthly newsletter, and will be highlighted by the Chamber in the Hutchinson Leaders' business section.
If you are interested in this opportunity, please email Mary or call Mary at the Chamber.
---
Hutchinson Ambassadors
The Hutchinson Ambassadors serve as the welcoming and social arm of the Hutchinson Chamber by actively supporting and promoting Hutchinson and its surrounding business community.
The Ambassador's Facebook page is a great place to see photos of all the visits and other special events hosted by the Ambassadors.
You may have seen our Ambassadors around town – you can recognize them by their blue shirts and friendly smiles. They welcome new business openings, as well as, celebrate business renovations and milestones with an Ambassador Business Visit.
January's Ambassador Business Visits:
---

Professionals Under 40 Leading Socializing and Educating
PULSE, a committee of the Hutchinson Chamber, is a group of  Professionals Under the age of 40 who asked themselves the same question and then created the answer. Our goal is to help young people in the Hutchinson area become better Leaders, create a concrete Social network with professional value, and continue to Educate themselves on important life and business topics.
PULSE meets for Lunch & Learn events on the 2nd Wednesday of the month, January – May & September – December  from 12:00 PM – 1:00 PM at Squeaky's Grill and Bar. The events are free to attend, a $10 lunch option is available.
Like the PULSE Facebook page to get the latest event information and registration links.
The group also gets together at quarterly social events.  Refer to the printable image below for the 2020 schedule.
---
Something from Mary!

Networking is for everyone
Insight into the Chamber's networking events.
The rest of Mary's article can be found on February's Something from Mary blog.
---
Save the Date!
FEBRUARY
7      Business Connection
12    PULSE Lunch & Learn
13    Business After Hours

MARCH
6       Business Connection   Register Here
11     PULSE Lunch & Learn     PULSE Facebook
12     Business After Hours – B&B Sports & RV  Register Here

APRIL
3     Business Connection
8     PULSE Lunch & Learn
9     Business After Hours

MAY
 1        Business Connection
13      PULSE Lunch & Learn
14      Business After Hours
20      Leadership Institute 2018-2019 Graduation

JUNE
5      Business Connection
5      Dairy Day

JULY
27   Chamber Golf Event – Crow River Golf Club

AUGUST
7    Business Connection

SEPTEMBER
4           Business Connection
9           PULSE Lunch & Learn
18/19      46th Arts & Crafts Festival
18/19     Taste of Hutchinson
24/25     Leadership Institute 2020-2021 Begins

OCTOBER
-Farm Fatigue Buckets Delivered-
2     Business Connection
14    PULSE Lunch & Learn
8     Business After Hours

NOVEMBER
    6   Business Connection
11   PULSE Lunch & Learn
19   Taste of the Holidays
28   Small Business Saturday

DECEMBER
Crop Management Input Seminar
4   Business Connection
9   PULSE Lunch & Learn