Chamber Annual Event  & Community  Awards  Banquet
Have you registered yet? Time is running out! Don't miss this fast-dealing, property trading game, where local businesses have a "property" on a LIFE SIZED "Hutch-Opoly" board game. The Chamber's Annual Event and Community Awards Banquet held on Friday, January 24th, 2020 at the Crow River Winery from 5:30PM to 10PM. Come and join us for a pasta buffet and a night of buying, selling and scheming your way to riches!
Sponsorship Forms Available.. click here
To register for the 2020 Annual Event use our online Annual Event Registration Form or by mailing/emailing a printable Annual Event Registration Form to the Chamber by Friday, January 17, 2020.
This year there is no need for a costume; no need for a suit. Come as you are and enjoy this eventful evening with us.
---
New & Renewing Chamber Members
We would like to welcome our new members to the Hutchinson Chamber of Commerce!
We  want to thank the following members for renewing their partnership with us!
Adult Training & Habilitation Center, Inc.
Albers Insurance
American Family Insurance- William "Bo" Young Agency
Animal Medical Center on Crow River
Aveyron Homes, Inc.
Bernick's Pepsi
Bullert Hospitality Group
Cash Wise Foods
Citizens Bank & Trust Co
City of Hutchinson
CorTrust Bank
Dobratz- Hantge Funeral Chapel
E.G. Rud & Sons, Inc.
Edward Jones- Pat Chapman AAMS
Fahey Sales Agency
Hansen Gravel, Inc.
Hassan Valley Lodge #109- Odd Fellows & Rebekahs
Hutch Bowl & Squeaky's Grill & Bar
Hutchinson Co-op
Hutchinson Countryside Retreats
Hutchinson Downtown Association
Hutchinson Family Dentistry
Hutchinson Jaycees
Hutchinson Leader
Hutchinson Public Schools
Hutchinson Theatre Company
Jay Malone Motors
Juul Contracting Co
KDUZ/KAPR/KGLB Radio
Kraft Walser Law Office
L & P Supply Co.
Laraway Roofing, Inc.
Lynn Card Company
Mathews & Vasek Construction
McKimm Milk Transit
Mediacom Communications
Melchert Hubert Sjodin
MITGI
Peace Lutheran Church
Prince of Peace Retirement Living
Pro Maintenance, Inc.
SEH of Hutchinson
Simonson Lumber Co.
Skyview Dariy, Inc.
Slumberland Furniture
Southwest Eye Care
Subway- Hwy 7
The Village Shop
Town & Country Tire
United Way of McLeod County
Wendling Insurance Services, Inc.
Westlund Associates
---
Meet your new Board!
The Hutchinson Chamber Board is extremely excited to introduce to you the 2020 Board!
Standing (left to Right): Sheila Murphy, Leah Watzke, Tara Tepley, John Sanken, Adam Fink, Jeremy Crosby.
Seated (left to Right): Brian Renner, Beth Gasser, Roman Bloemke, Don Martinez. Missing in the photograph is Jesse Bjur.
---
Hutchinson Ambassadors
The Hutchinson Ambassadors serve as the welcoming and social arm of the Hutchinson Chamber by actively supporting and promoting Hutchinson and its surrounding business community.
      December's Ambassador Business Visits: 
HealthSource Chiropractic of Hutchinson
Business After Hours
Business After Hours is a great way to learn about businesses in Hutchinson and network with fellow Chamber Members. This is a way to get behind the scenes in our local businesses… to see what they make, do or provide for our community. This monthly event is open to all Chamber Member business employees or by a Chamber invitation, registration is advised. Businesses interested in a hosting Business After Hours event or would like more information should email the Hutchinson Ambassadors.
If you are the only primary representative with your business receiving emails from the Chamber, please invite all your employees to join us! Preregistration is strongly encouraged, so our business hosts may plan accordingly.
January's Business After Hours will be held on
Thursday, January 9 from 4:00 PM to 6:00 PM at
Buffalo Wild Wings 1040 MN-15, Hutchinson, MN.
Click here to register for January's Business After Hours  or call the Chamber at 320-587-5252.
February's Business After Hours will be held on
Thursday, February 13th from 4:00 PM – 6:00 PM at
Edina Realty, located at 904 Highway 15 S, Hutchinson, MN.
Registration coming soon!
---
Attend these networking events that take place from 7:00 am – 8:00 am on the first Friday of each month at a Chamber business. Chamber Members are invited to gather, enjoy coffee and a light breakfast, share a quick update or information on their business/organization, and learn more about the host business through a presentation. We will always have Chamber updates for you as well.
If you are part of a Chamber business/organization and interested in attending, please register online in the link provided below. Multiple guests per organization are welcome, just remember to register! Door prizes will be given out, so make sure you bring your business card to be entered into the drawing.
January Business Connection has been canceled due to the Holiday! Happy New Year!
Please join us for the Next Chamber Business Connection at
St. Anastasia
Friday, February 7th from 7:00 am to 8:00 am.
Registration Link for February's Business Connection
---
2019 Ag Person of the Year is…  Glenn Witte
Congratulations to the 2019 Ag Person of the Year Glenn Witte!
Thank you to the Chamber's AgriBusiness Committee
for their work throughout the year!
---
Maximize Your Membership!
Does your business or organization have a special announcement or flyer that needs the attention of many? You may want to consider inserting a flyer into the Chamber's monthly Newsletter! This is a super easy and convenient 1 point option that is available to all members. A 1-point option can get you 3 inserts plus 1 mailing list OR 4 Newsletter insets. Simply send an 8 1/2 x 11 PDF of the flyer by the 25th of the prior month if you would like to share!
If you have any addition questions or are interested in submitting a flyer please contact the Hutchinson Chamber by phone: 320-587-5252 or by email: [email protected].
---
Quarter 1 Table Tents
****We are sad to announce that Quarter 1 Table tents will not be delivered. Due to lack of entries we were unable have them printed.
The deadline for Quarter 2 Tables Tents is just around the corner, be sure to get your entry in today!
Are you looking for a way to boost an upcoming Hutchinson event? The Chamber printers and delivers over 900 table tents around the community. Make sure you get your event added to the Chamber's table tents. The cost is $30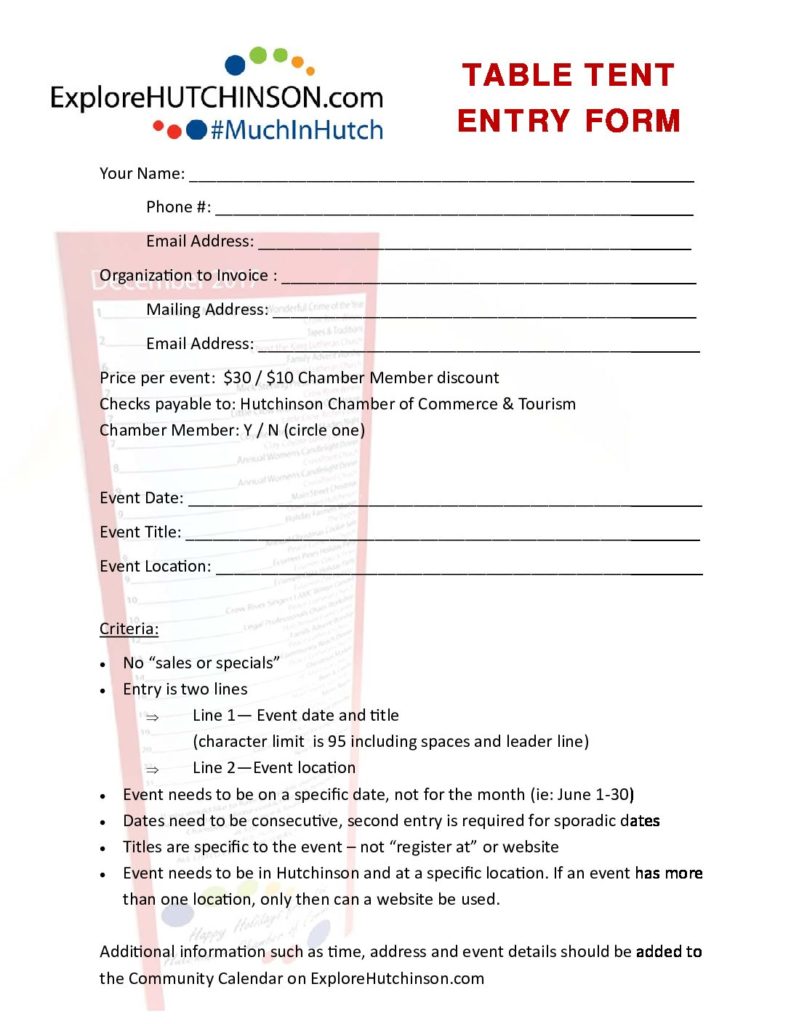 per event listing for community members and Chamber Members receive a $10 discount per event listing. Submitting an event is easy… just complete the printable Table Tent Entry Form and mail, email or drop it off at the Chamber.
Also, if you submit an event to our table tents, make sure to add it to our Community Calendar. The Community Calendar averages about 100 views a day, so don't forget to utilize it! Submitting an event to the Community Calendar may be done through your Chamber Member Portal or directly on the Community Calendar page!
The deadline for Quarter 2 (April, May & June) is March 1.
If you want table tents delivered to your business or if you want to submit an event for an upcoming table tent, please contact the Hutchinson Chamber by phone 320-587-5252 or by email
---

Professionals Under 40 Leading Socializing and Educating
PULSE, a committee of the Hutchinson Chamber, is a group of  Professionals Under the age of 40 who asked themselves that same question and then created the answer. Our goal is to help young people in the Hutchinson area become better Leaders, create a concrete Social network with professional value, and continue to Educate themselves on important life and business topics.
PULSE meets for Lunch & Learn events on the 2nd Wednesday of the month, January – May & September – December  from 12:00 PM – 1:00 PM at Squeaky's Grill and Bar. The events are free to attend, a $10 lunch option is available.
Like the PULSE Facebook page to get the latest event information and registration links.
The group also gets together at quarterly social events.  Refer to the printable image below for the 2020 schedule.
---
You get out what you put in….
We are sliding into the new decade- the roaring twenties are back!
The new year, and in this case decade, always brings me to a place to contemplate…..
Learn more in Mary's blog!
---
Save the Date!
JANUARY
8     PULSE Lunch & Learn
9     Business After Hours – Buffalo Wild Wings
24      Annual Chamber Event – Hutch-Opoly
FEBRUARY
7      Business Connection
12    PULSE Lunch & Learn
13    Business After Hours – Edina Realty
MARCH
6       Business Connection
11     PULSE Lunch & Learn
12     Business After Hours
APRIL
3      Business Connection
8     PULSE Lunch & Learn
9     Business After Hours
MAY
 1         Business Connection
13      PULSE Lunch & Learn
14      Business After Hours
20      Leadership Institute 2018-2019 Graduation
JUNE
5      Business Connection
5      Dairy Day
JULY
27   Chamber Golf Event – Oakdale
AUGUST
7    Business Connection
SEPTEMBER
4           Business Connection
9           PULSE Lunch & Learn
18/19      46th Arts & Crafts Festival
18/19     Taste of Hutchinson
24/25     Leadership Institute 2020-2021 Begins
OCTOBER
-Farm Fatigue Buckets Delivered-
2     Business Connection
14    PULSE Lunch & Learn
8     Business After Hours
 NOVEMBER
    6      Business Connection
11   PULSE Lunch & Learn
19   Taste of the Holidays
28   Small Business Saturday
DECEMBER
Crop Management Input Seminar
4   Business Connection
9   PULSE lunch & Learn