45th Hutchinson Arts & Crafts Festival September 13 – 14
The 45th Annual Hutchinson Arts & Crafts Festival will be held on Friday, September 13 and Saturday, September 14 in beautiful Library Square Park in downtown Hutchinson.
This year we currently have more than 100 vendors  and the exciting thing is 28 new vendors will be selling their wares for the first time in Hutchinson. We are thrilled with the selection of vendors, including those returning vendors who will once again delight shoppers.
The event  features handmade crafts in the following categories: accessories, artwork, bath, clay, clothing, dolls, fabric/fiber, floral, furniture/home accents, games/toys/books, glass, gourmet, jewelry, leather, metal, painting, photography, seasonal, wood and much much more.
Come enjoy the downtown setting and shop this annual family-friendly festival!
Taste of Hutchinson
The Hutchinson Ambassadors host the Taste of Hutchinson on September 13 & 14 along side the Arts & Crafts Festival. A wonderful variety of food vendors line First Avenue ready to serve up some delicious fare. In addition to the tasty food, the Ambassadors added a music feature a couple years ago that adds to the festive atmosphere. The music line up this year includes:
Friday
11am-2:30pm Mona Hjerpe & Friends
4-7pm Sawyer's Dream
Saturday
10:45am–12:45pm Taylor Jordan
1:15- 3:30pm Off Duty
Change is inevitable, but Blandin Leadership is planned change
Something from Mary! … I've been dealing with a lot of change lately, but there are different kinds of change. Some change is unplanned and unexpected and you have to deal with that. Planned change can be discovered through an amazing opportunity in our community at the upcoming Blandin Community Leadership Program. Learn more in Mary's blog!
Farm Fatigue "Bucket of Thanks" Event 2019
Each harvest, our AgriBusiness Committee works hard to deliver buckets of goodies to our farmers in the fields in
McLeod County.
If you business is interested in supplying goodies or money for this program, please complete the printable 2019 2019 Farm Fatigue Flyer(pdf) and mail, email or drop it off at the Chamber by the deadline, Friday, September 6.
Chamber welcomes new staff, bids farewell to previous employees
This summer has been a season of change at the Chamber office. Ashley Gabbert left her position as Membership Coordinator in early July and then Communications Coordinator Gina Buske exited at the end of July. Both ladies are wished well on their new positions in the community.
In August, Jill Barrall joined the chamber as the new Membership Coordinator. Jill was previously the Legal Advocate at McLeod Alliance for Victims of Domestic Violence. She is excited for this new venture at the Chamber.
On Sept. 9, Cegi Wassman joins the Chamber as the new Communications Coordinator. Cegi, pronounced CeeGee, comes to the Chamber after working at 3M in Hutchinson.
Chamber President Mary Hodson is excited to have both women join the Chamber team and looks forward to a full staff in the office, just in time for Arts and Crafts Festival!
Business Connection – October 6
Thank you to everyone that registered for September's Business Connection scheduled for Friday, September 6, hosted by New Discoveries Montessori Academy.  We are excited to learn from  Dave Conrad and the staff at New Discoveries Montessori Academy how the school enables children to share and contribute their unique talents in the world.
Please join us for October's Business Connection hosted by Adult Training and Habilitation Center on Friday,
October 4 from 7:00 AM to 8:00 AM at 425 California St.  Come and learn how Adult Training and Habilitation Center assists people with developmental disabilities on the job to become independent, productive and self-reliant community members.
Business Connection is a morning networking event that takes place at a Chamber business on the first Friday of each month from 7:00 AM to 8:00 AM. Chamber members are invited to gather, enjoy coffee and a light breakfast, share a quick update or information on their business/organization. We will always have a Chamber update for you as well.
Door prizes will be given out, so make sure you bring your business card to be entered into the drawing. The new networking opportunity is a great way to know people in the community and keep in touch with Hutch!
We are currently working to fill our 2020 Business Connection calendar, so if your Chamber business would like to learn more about becoming a Business Connection host, contact Jill.
Business After Hours
With the many festival and events that happen in Hutchinson over the summer, Business After Hours goes on hiatus in August and September –but will be back on October 10th!
Business After Hours is a great way to learn about businesses in Hutchinson and network with fellow Chamber members. This is a way to get behind the scenes at our local businesses… to see what they make, do or provide. This monthly event is by Chamber invitation only and is open to all Chamber member business employees. Businesses interested in hosting a Business After Hours event or would like more information should email the Ambassadors.
If you are the only primary representative with your business receiving emails from the Chamber, please invite all your employees to join us! Preregistration is strongly encouraged, so our business hosts may plan accordingly.
Table Tents Quarter 1 (Jan, Feb & March 2020) Deadline – December 1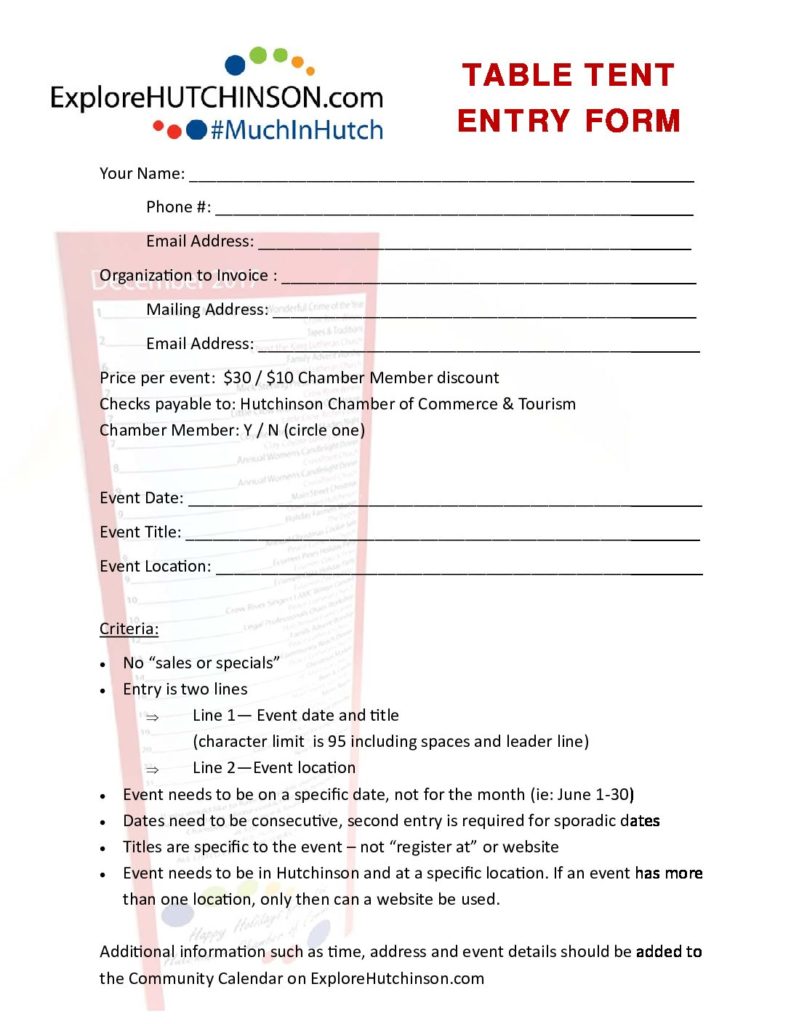 Are you looking for a way to boost an upcoming Hutchinson event? The  Chamber prints and delivers 900 table tents around the community. Make sure you get your event added to the table tents!
The cost is $30 per event listing for community members and $20 for Chamber member per event listing. Submitting an event is easy… just complete the printable Table Tent Entry Form (pdf) and mail, email or drop it off at the Chamber by the quarterly deadline.
Also, if you submit an event to our table tents, make sure to add it to our Community Calendar. The Community Calendar averages about 100 views a day, so don't forget to utilize it! Submitting an event to the Community Calendar may be done through your Chamber Member Portal or directly on the Community Calendar page!
The deadline for Quarter 1 (January, February and March) is December 1.
If you want table tents delivered to your business or if you want to submit an event for an upcoming table tent, please call the Chamber or email the Chamber.
Maximize Your Membership!
A great way to get your business some positive exposure and maximize your membership is through event sponsorship. You can raise your business profile just by supporting a variety of events that will get participants thinking about your business more!
When your business sponsors a Chamber event, the Chamber will highlight your business by putting your name on all marketing materials. Your business will be highlighted as a sponsor during  the event, whether through announcements made at the event or sign placement at the event. Event sponsorship can be added to your membership as a 1-point option.
There are also some multiple point options that further increase your exposure. For example, a 2- Point Sponsorship option that increases your membership exposure could be a Staffed Hole Golf Sponsorship or Crop Management Input Seminar Bronze Sponsorship. Use of these options clearly maximizes your membership by putting a staff member at the event representing your business or organization.
At an even larger level, there are 5- and 6-Point options for Sponsorship giving your business VIP access to those events. Many of these Sponsorship options include tickets for guests of your business at the event.
Contact Jill at the Chamber office of email her with questions or to work with her to raise your community profile for your business and maximize your membership.
New & Renewing Members
We would like to welcome our new members to the Hutchinson Chamber of Commerce!
McLeod for Tomorrow
Touch of Grace Dance Studio
We also want to thank the following members for renewing their partnership with us!
Ashley HomeStore
Carpets Plus ColorTile Design Showroom
Down with Diabetes Alliance
e2 Electrical Services
Factory Direct Furniture
Fairway Independent Mortgage Corp
Heartland Ag Sysems
Hutchinson Hockey Association
Junior Achievement of Hutchinson
Mini Biff
Wheel and Cog Children's Museum
Yutzy Construction
Business of the Month
This month's Business of the Month is Chamber member, Hutchinson Area Community Foundation. This
philanthropic nonprofit organization has granted thousands of dollars to local groups and businesses. Learn more about the Hutchinson Area Community Foundation here.
The Chamber's Business of the Month program is a free marketing opportunity that is only available to Chamber Members. The featured business is interviewed on KDUZ by Mary, the business logo and company information will be featured on the Chamber's website for one month, we will put your logo and information in the Chamber's monthly newsletter, as well as the Chamber highlighting your business in the Hutchinson Leaders' business section.
If you are interested interested in this opportunity, please email Mary or call Mary at the Chamber.
Save the Date!
SEPTEMBER
6        Business Connection – New Discoveries Montessori Academy
11      PULSE Lunch & Learn
13-14    45th Arts & Crafts Festival
13-14    Taste of Hutchinson
19-20    Leadership Institute 2019-2020 Begins
OCTOBER
4        Business Connection – Adult Training & Habilitation Center Inc
9        PULSE Lunch & Learn
10      Business After Hours
NOVEMBER
1        Business Connection – Ecumen Oaks & Pines
13     PULSE Lunch & Learn
21     Taste of the Holidays
30     Small Business Saturday
DECEMBER
6       Business Connection – Jay Malone Motors
10     Crop Management Input Seminar
12    Holiday Business After Hours
More Information For Your Business To Grow…