Last Call — Farm Fatigue Bucket of Thanks Event 2018
The Agri-Business Committee is announcing last call for donations for the 2018 Bucket of Thanks Event. Their donation deadline is September 3rd. Donations needed are food, wellness and safety items. The Committee is looking forward to assembling the buckets for the anticipated and very much appreciated "out in the field" delivery day during harvest time.
If you have additional questions, please feel free to call the Chamber at 320-587–5252  or email us at [email protected].
---
44th Annual Arts & Crafts Festival and Taste of Hutchinson
We hope you will join us for the 44th Annual Arts & Crafts Festival.  The festival dates and times are Friday, September 14th 10:00 am – 6:00 pm and Saturday, September 15th 9:00 am – 4:00 pm.  This festival is full of handmade items and crafts from vendors that travel from all areas of the country. We have several returning vendors and many NEW vendors that are eager to share their creations with you. Please invite your family and friends to attend this community favorite event! For more information follow the Arts & Crafts Festival Facebook Event Page.
The Annual Taste of Hutchinson is held in conjunction with the Arts & Crafts Festival. Along with the delicious food vendors, the Ambassadors bring you live music! This year's line up includes: Stoney Point, "Off Duty", Ben Weaver, Area Youth, South Grade Band and Tony Cuchetti. For more information follow the Taste of HutchinsonFacebook Event Page.
LOOKING FOR A WAY TO GET INVOLVED??? ARTS AND CRAFTS VOLUNTEERS ARE NEEDED!!! With 10,0000 – 12,000 people attending each year, volunteers are critical. The 2018 Arts & Crafts Volunteer sign up sheet is the easiest way to sign up to volunteer. This online document automatically save, so there is no need to click save. Otherwise, to speak with someone at the Chamber about volunteer opportunities, please call us at 320-587-5252  or you can email us at [email protected].
---
Business of the Month
The September Business of the Month is American Family Insurance – William "Bo" Young Agency.
We are honored to have American Family Insurance – William "Bo" Young Agency as September's Business of the Month. For the Am Fam story and to see what they enjoy most about their Chamber membership read our September Business of the Month article. 
---
New & Returning Chamber Members
We want to welcome our new Chamber Members:
We would like to thank the following members for renewing their partnership with the Chamber!
AMS Coating
Carpets Plus ColorTile Design
e2 Electrical Services
Fairway Mortgage
Marco Technologies
Mini Biff, LLC
RiverSong
Valley Sales of Hutchinson
---
The Hutchinson Ambassadors serve as the welcoming and social arm of the Hutchinson Chamber by actively supporting and promoting Hutchinson and its surrounding business community.
The Ambassador's Facebook page is a great place to see photos of all the visits and other special events hosted by the Ambassadors.
August's Ambassadors Visits:
Business After Hours:
Business After Hours is not held in September.
Business After Hours resumes on October 11th with Tiger After Hours. The TigerPath teachers will be on hand to explain how they will help students discover their talents, develop their skills and build an exciting, rewarding career! "Find your own path" – that's what it's all about!
Business After Hours is a great way to learn about businesses in Hutchinson and network with fellow chamber members. This monthly event is Chamber invitation only and a way to get behind-the-scenes at our local businesses. Businesses interested in hosting a Business After Hours event, should contact the Ambassadors.
Email the Ambassadors if you have any questions or would like more information.
---
Something from Mary
TigerPath
Yes, you've heard it before. The Hype, the Excitement, the Four Pathways, Mary jumping up and down, Miles getting awards, the new school building supporting it….
But NOW…. there's a TigerPath COORDINATOR… Andrea Moore!
The rest of Mary's article can be found on September's Something from Mary blog.
---
Quarter 1 Table Tent Deadline is December 1st 2018!
The Chamber prints and delivers over 900 table tents around the community. Are you looking for a way to boost an upcoming Hutchinson event? Make sure you get your event added to the Chamber's table tents. The cost is $30/event listing for community members and Chamber members receive a $10/discount per event listing.
Also, if you submit an event to our table tents, make sure to add it to the online Community Calendar. The Community Calendar averages about 100 views a day, so don't forget to utilize it! Submitting an event to the Community Calendar may be done through your Chamber Member Portal or directly on the Community Calendar page!
The deadline for Quarter 1 (January, February & March 2019) is December 1, 2018.
If you want table tents delivered to your business or if you want to submit an event for an upcoming table tent, please contact Gina by phone 320-234-0786 or by email [email protected].
---
Upcoming Save the Dates
September 14 – 15 = Arts & Crafts Festival and Taste of Hutchinson
November 15 = Taste of the Holidays
November 24 = Small Business Saturday
---
More Information…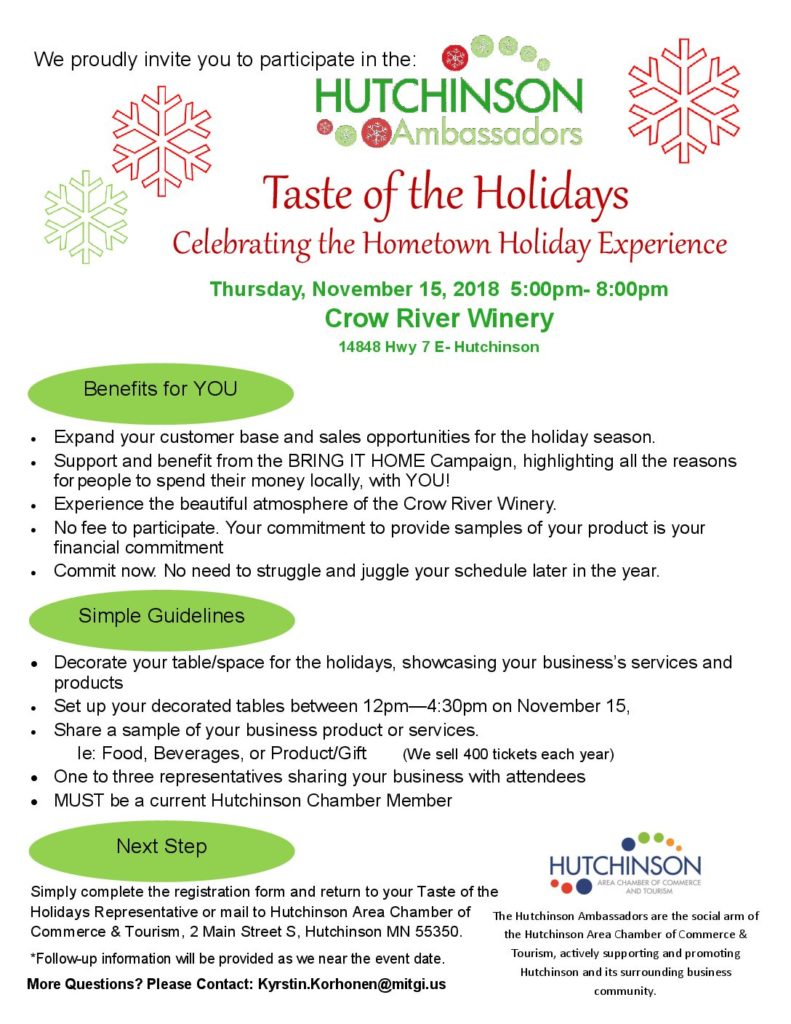 ---