Race to Savings at Hutchinson's Crazy Days ~ July 18 – 20!
On July 18 – 20 there will be some crazy days of shopping, dining and fun. Hutchinson businesses will take to the sidewalks with a "Race to Savings."
The Chamber will have a Welcome Station on the corner of Main Street and Washington Avenue on Thursday, July 18 from 5:00 PM to 7:00 PM to kick off the Race to Savings. Stop by for a .5K Race to Savings Lanyard, given to the first 100 families. Then be sure to stop back at the Welcome Station to drop off one receipt from Thursday, July 18 for a chance to be entered in our prize drawing. One ticket per person, receipts must be dated 07/18/19 and from a Hutchinson MN business.
Stay tune to ExploreHutchinson.com to see a list of participating businesses and check out the Community Calendar to see other events that are going on in the community.
The Chamber's new thinkLOCAL program is designed to share important information with the community on how local businesses contribute to a strong local economy.
Locally owned, independent businesses recycle a higher percentage of profits back into the local economy
Local businesses also keep tax dollars in our community to support schools, parks police & fire departments, and much more.
---
Hometown Golf Challenge ~ Monday, July 22
Looking for an opportunity to wear your favorite team or game apparel? Want to cheer loud and proud?
The Chamber is hosting a TAILGATING PARTY Golf Scramble at Oakdale Golf Club on Monday, July 22. Registration begins at 11:00 AM with shotgun start at 12:00 PM. Enjoy 18 holes, scramble format, two meals included with registration, prizes and much much more!
– $125 per golfer: includes lunch, dinner, and 18 holes with cart included in ticket price (Registration deadline is July 12)
– No experience necessary – this event is FUN whether you're a golfer or not
– Prizes given to best "costume", best decorated golf cart, and the team with the lowest golf score
– "Closest to the Pin" shootout with a $500 prize
To register for the event, complete the printable Hometown Golf Registration form (pdf) and mail, email or drop it off at the Chamber.
Click this link to see why you should register for this year's Chamber Hometown Golf Challenge.
Interested in promoting your business at the Chamber Golf Event? Ask us about opportunities to set up a booth at one of the holes or have your business represented with signage on a hole. Just complete the printable Hometown Golf Sponsorship Form (pdf) and mail, email or drop it off at the Chamber.
---
Hutchinson Leadership Institute & Leadership 2.0 Enrollment for 2019-2020 is now open!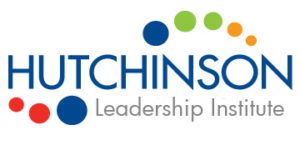 We are happy to announce the Hutchinson Leadership Institute is back for its 31st year! The Hutchinson Leadership Institute is hosted by the Hutchinson Area Chamber of Commerce and Tourism. This comprehensive program is designed to build community leaders. Over the period of nine months, participants will experience 10 days of training and classes. Each participant will be assigned to a group service project, which will assess community needs, determine a project, and facilitate the project working with other community members and/or groups.
Once you have completed the Leadership program, you can participate in Leadership 2.0! The 2.0 program takes a deeper dive into personal leadership and how it can impact the future of the entire community.
Click link for application: Hutchinson Leadership Institute or Hutchinson Leadership 2.0
If you have questions about this program please email Mary call 320-234-0785.
---
Dairy Day ~ Thank You!
THANK YOU to everyone who made Dairy Day a huge success! We greatly appreciate all who helped in every way!
We would especially like to thank our sponsors!
Visionary Sponsor: Citizens Bank & Trust Co
Champion Sponsors: Hutchinson Health, MidCountry Bank, SouthPoint Financial Credit Union & TDK Hutchinson Technology
Event Sponsors: Cash Wise Foods, CenBank, Compass Occasions LLC, E.G. Rud & Sons Inc, Edina Realty Inc, Edward Jones – Nick Pederson, Goebel Fixture Company, Harmony River Living Center, Heartland AG Systems, Home State Bank, Hutchinson Co-op, Hutchinson Leader, Impressions Inc, Piehl Hanson & Beckman PA, Plumbing & Heating by Craig Inc, Runnings, Skyview Dairy Inc and WalmartSupercenter.
And a special shout out to: Agri-Business Committee, Below  Zero Frozen Yogurt, Benny's Meat Market, Bongards, Celebrity Milkers, Community Volunteers, First District Dairy, HHS FFA Members, Hutchinson Jaycee Water Carnival Royal Family, the Kurth Family, McLeod County 4-H, McLeod County Dairy Princess & Ambassadors, McLeod County Extension and Princess Kay of the Milky Way.
---

---
Business Connection
Business Connection will not be held in July due to the holiday –but will be back on August 2. Please watch for information to come!
Business Connection is a morning networking event that takes place at a Chamber business on the first Friday of each month from 7:00 AM to 8:00 AM. Chamber members are invited to gather, enjoy coffee and a light breakfast, share a quick update or information on their business/organization. We will always have a Chamber update for you as well.
Door prizes will be given out, so make sure you bring your business card to be entered into the drawing. The new networking opportunity is a great way to know people in the community and keep in touch with Hutch!
If you are part of a Chamber business/organization and interested in hosting or have questions about Business Connection, call the Chamber or send us an email.
Online registration for August Business Connection
---
Business After Hours
With the many festival and events that happen in Hutchinson over the summer, Business After Hours goes on hiatus in July, August and September –but will be back on October 10th!
Business After Hours is a great way to learn about businesses in Hutchinson and network with fellow Chamber members. This is a way to get behind the scenes at our local businesses… to see what they make, do or provide. This monthly event is by Chamber invitation only and is open to all Chamber member business employees. Businesses interested in hosting a Business After Hours event or would like more information should
email the Ambassadors
.
If you are the only primary representative with your business receiving emails from the Chamber, please invite all your employees to join us! Preregistration is strongly encouraged, so our business hosts may plan accordingly.
---
Maximize Your Membership!
Are you searching for a new way to remind customers of the services or products you offer, an upcoming event or promotions, etc? Do you have a promotional flyer already and don't feel like recreating the wheel? Your search is over…
Chamber Members can add a newsletter insert to the Chamber's monthly newsletter or request a Chamber Member mailing list in one of two ways. They can purchase a single newsletter insert or mailing list; or to maximize their benefit they can add it to their membership as a 1 point option.
Click on the image above for instructions or call the Chamber with questions.

---
45th Hutchinson Arts & Crafts Festival September 13 – 14

The 45th Annual Hutchinson Arts & Crafts Festival will be held on Friday, September 13 and Saturday, September 14 in beautiful Library Square Park in downtown Hutchinson. This event will feature handmade crafts in the following categories: accessories, artwork, bath, clay, clothing, dolls, fabric/fiber, floral, furniture/home accents, games/toys/books, glass, gourmet, jewelry, leather, metal, painting, photography, seasonal, wood and much much more.
Conversely, if you are an artisan and interested in vending at the Arts & Crafts Festival, applying is easy! Just complete the printable Hutchinson Arts & Crafts Festival Exhibitor Application & Guidelines (pdf) and mail, email or drop it off at the Chamber! An online Hutchinson Arts & Crafts Festival Exhibitor Application & Guidelines is also available.
For any questions, please contact the Chamber at 320-587-5252 or email us.
---

Taste of Hutchinson
The Hutchinson Ambassadors host the Taste of Hutchinson on September 13 & 14 along side the Arts & Crafts Festival. Delectable food options and live music awaits all patrons!
Interested in being a food vendor? Just complete the printable Hutchinson Ambassador 45th Annual Taste of Hutchinson Food Vendor Application (pdf) and mail, email or drop it off at the Chamber.
---
Quarter 3 Table Tents are Here!
Are you looking for a way to boost an upcoming Hutchinson event? The Chamber prints and delivers over 900 table tents around the community. Make sure you get your event added to the Chamber's table tents.
The cost is $30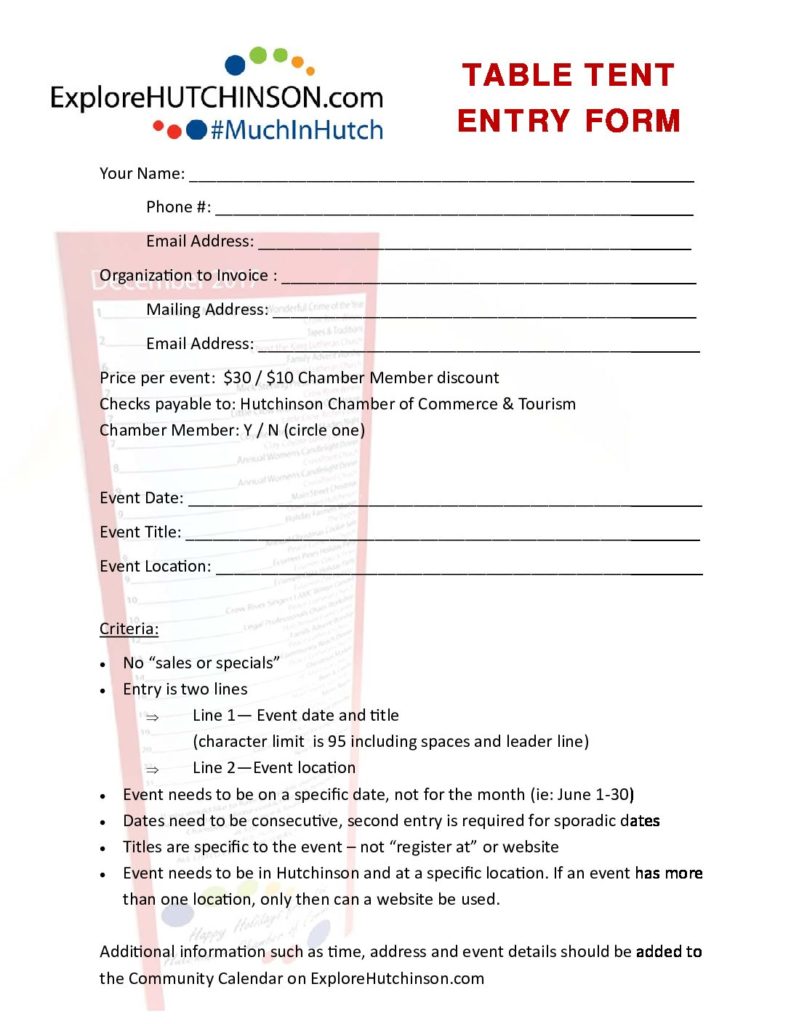 per event listing for community members and $20 per event listing for Chamber Members. Submitting an event is easy… just complete the printable Table Tent Entry Form (pdf) and mail, email or drop it off at the Chamber.
Also, if you submit an event to our table tents, make sure to add it to our Community Calendar. The Community Calendar averages about 100 views a day, so don't forget to utilize it! Submitting an event to the Community Calendar may be done through your Chamber Member Portal or directly on the Community Calendar page!
The deadline for Quarter 4 (October, November & December) is September 1.
If you want table tents delivered to your business or if you want to submit an event for an upcoming table tent, please call Gina or email Gina.
---
New & Renewing Members
We would like to welcome our new members the the Hutchinson Chamber of Commerce!
We also want to thank the following members for renewing their partnership with us!
Below Zero Frozen Yogurt
Benny's Meat Market
Crow River Floral & Gifts
Days Inn & Suites
Edward Jones – Pat Chapman
Hutchinson Health Auxiliary
Kwik Trip Inc
Marco Technologies
MidCountry Bank
Midwest Vision Centers
Minnesota Pottery Festival
Nies, Sheldon
Novation Credit Union
Outdoor Motion
Pizza Ranch Hutchinson
Stamp-n-Storage
State Farm Insurance – Mike McGraw
---
Business of the Month
Our July Business of the Month is RAM Buildings. This year RAM Buildings is celebrating their 20th Anniversary! We are so happy to have their involvement in our Chamber and their business in our area. Learn more about RAM Buildings in our Business of the Month article.
---
The Agri-Business Committee, a committee of the Hutchinson Chamber, is a group of community members who focus on the educational and support needs of our agricultural businesses.
Throughout the year Agri-Business hosts the February Ag Seminar, June Dairy Day and a special program in conjunction with our neighbor the Glencoe Chamber- Farm Fatigue. These events can be found on our Community Calendar.
Visit our Agri-Business page for more information on the committee, events and sponsorship opportunities.
---
The Hutchinson Ambassadors serve as the welcoming and social area of the Hutchinson Chamber by actively supporting and promoting Hutchinson and its surrounding business community.
The Ambassador's Facebook page is a great place to see photos of all the visits and other special events hosted by the Ambassadors.
You may have seen our Ambassadors around town – you can recognize them by their blue shirts and friendly smiles. They host Business After Hours, welcome new business openings, as well as, celebrate business renovations and milestones with an Ambassador Business Visit.
June's Ambassador Business Visits:
Thrifty White
Greener Pastures
Sanford & Co.
---
Professionals Under 40 Leading Socializing and Educating
PULSE, a committee of the Hutchinson Chamber, is a group of  Professionals Under the age of 40 who asked themselves that same question and then created the answer. Our goal is to help young people in the Hutchinson area become better Leaders, create a concrete Social network with professional value, and continue to Educate themselves on important life and business topics.
PULSE meets for Lunch & Learn events on the second Wednesday of each month from 12:00 PM – 1:00 PM at Squeaky's Grill and Bar. The events are free to attend, a $10 lunch option is available.
The group also gets together at quarterly social events  (green dates listed in calendar below). Like the PULSE Facebook page to get the latest event information and registration links. Register for the July 10 Lunch & Learn by Friday, July 5 to be entered into a $25 gift card drawing! July 10 Lunch & Learn Registration
---
thinkLOCAL is a Chamber program is designed to share important information with the community on how local businesses, big or small, contribute to a strong local economy. Every business can play a part if sharing the importance of spending money locally before going online or out of town.
Locally owned, independent businesses recycle a higher percentage of profits back into the local economy
Local businesses also keep tax dollars in our community to support schools, parks police & fire departments, and much more.
Customers benefit from expertise offered by local businesses. Also, at a local store you're as much as 3x more likely to discover something new.
Shopping local means enjoying lively streets and bumping into friendly faces. You support businesses who support community events and organizations.
During the year, thinkLOCAL committee hosts Crazy Days (July) and Small Business Saturday (Saturday after Thanksgiving). Both events encourage local spending and are just an all-around fun time!
Visit our thinkLOCAL page for more information on how you can make a difference; as well as check out our free resources and materials for businesses.
---
Something from Mary!
thinkLOCAL… do YOU THINK LOCAL?
What a question? What does it mean to thinkLOCAL?
Before you purchase something online, or out of town, do you think about whether you can actually find it here in Hutchinson? Do you consider the online options for local stores?
Do you ask businesses to donate to this, that, and the other thing?
Answers to these question can be found on July's Something from Mary Blog.
---
Save the Date!
JULY
10       PULSE Lunch & Learn
18-20  Crazy Days
22       Chamber Golf Event – Oakdale Golf Course
AUGUST
2          Business Connection – Buffalo Wild Wings
14        PULSE Lunch & Learn
14-18  Made in McLeod @ County Fair
SEPTEMBER
6        Business Connection – New Discoveries Montesorri Academy
11      PULSE Lunch & Learn
13-14    45th Arts & Crafts Festival
13-14    Taste of Hutchinson
19-20    Leadership Institute 2019-2020 Begins
OCTOBER
Farm Fatigue Buckets Delivered
4        Business Connection – Adult Training & Habilitation Center Inc
9        PULSE Lunch & Learn
10      Business After Hour – Stamp N Storage
NOVEMBER
1        Business Connection – Ecumen Oaks & Pines
13     PULSE Lunch & Learn
14     Taste of the Holidays
30     Small Business Saturday
DECEMBER
Crop Management Input Seminar
6      Business Connection – Jay Malone Motors
12     Holiday Business After Hours
---
More Information For Your Business To Grow…
---