Annual Chamber Event & Community Awards – January 18
Moonwalk,  Running Man, Thriller, breakdancing, Snake, Electric Slide,  Worm, Dirty Dancing Lift, Walk Like an Egyptian, Right Stuff, Roger Rabbit, Voguing, Cabbage Patch, Pop 'n Lock, Safety Dance, Sprinkler, and last but not least Everybody Footloose!
Come out to the Crow River Winery on Friday, January 18 for the Chamber's Annual Event – 80's Prom "A Night Under the Stars" and you will be guaranteed to see some of the best dance moves from the 80s!
Registration is open until Friday, January 11. To register for the 2019 Annual Chamber Event, 80's Prom – A Night Under the Stars, use the online Annual Event Registration Form or by mailing/emailing a printable Annual Event Registration Form (pdf) to the Chamber.
Additionally, the Chamber and the Jaycees will be announcing the Community Awards for Business Person of the Year, Volunteer of the Year, Teacher of the Year and Young Leader of the Year. You wouldn't want to miss this event!
Please help us congratulate the Chamber's Ag Person of the Year – Ted Matthews. Ted was presented with the award at the 2019 Crop Management Input Seminar on Thursday, December 6 at the Hutchinson Event Center. Your congratulations go out to him for all his hard work and dedication!
---
New & Renewing Chamber Members
We  want to thank the following members for renewing their partnership with us!
Animal Medical Center on Crow River
Bernick's Pepsi
Compton-Anderson Construction
Edward Jones – Pat Chapman
Farm Bureau Financial – Ryan Elbert
Hassan Valley Lodge #109
Hometown Ralty
Hutch Café
Hutchinson Health
Hutchinson Toastmasters II
Juul Contracting
Kraft Walser Law Office
Matthews & Vasek Construction
MITGI
Oakdale Golf Club
Peace Lutheran Church
Prince of Peace Retirement Living
Regional Eye Specialists, PA
Richard Larson Builders, Inc.
Southwest Eye Care
Title Mark
---
January Business of the Month
Our January Business of the Month is
B&B Sports & RV. Read more about this great local company in the Business of the Month article.
---
The Hutchinson Ambassadors serve as the welcoming and social arm of the Hutchinson Chamber by actively supporting and promoting Hutchinson and its surrounding business community.
The Ambassador's Facebook page is a great place to see photos of all the visits and other special events hosted by the Ambassadors.
You may have seen our Ambassadors around town – you can recognize them by their blue shirts and friendly smiles. They welcome new business openings, as well as, celebrate business renovations and milestones with an Ambassador Business Visit.
December's Ambassador Business Visits:
Business After Hours is a great way to learn about businesses in Hutchinson and network with with fellow Chamber Members. This is a way to get behind the scenes on our local businesses… to see what they make, do or provide. This monthly event is Chamber invitation only and is open to all Chamber Member business employees. Businesses interested in hosting a Business After Hours event or would like more information should email the Ambassadors.
If you are the only primary representative with your business receiving emails from the Chamber, please invite all your employees to join us! Preregistration is strongly encouraged, so our business hosts may plan accordingly.
January's Business After Hours will be will be hosted by Melchert Hubert Sjodin at the Crow River Country Club on Thursday, January 10 from 4:00 PM to 6:00 PM at  at 22 Main St N.
Click here to register online for January's Business After Hours or call the Chamber at 320-587-5252.
---
Something from Mary

Most of use have benefits through our employers.
We try to utilize those employee benefits to make our life better, healthier, balanced and maybe just a little easier. It's what we do; use those benefits for maximum advantage for ourselves.
Your Chamber Membership comes with benefits also.
The rest of Mary's article can be found on January's Something from Mary blog.
---
Quarter 1 Table Tents are Here!
Are you looking for a way to boost an upcoming Hutchinson event? The Chamber printers and delivers over 900 table tents around the community. Make sure you get your event added to the Chamber's table tents. The cost is $30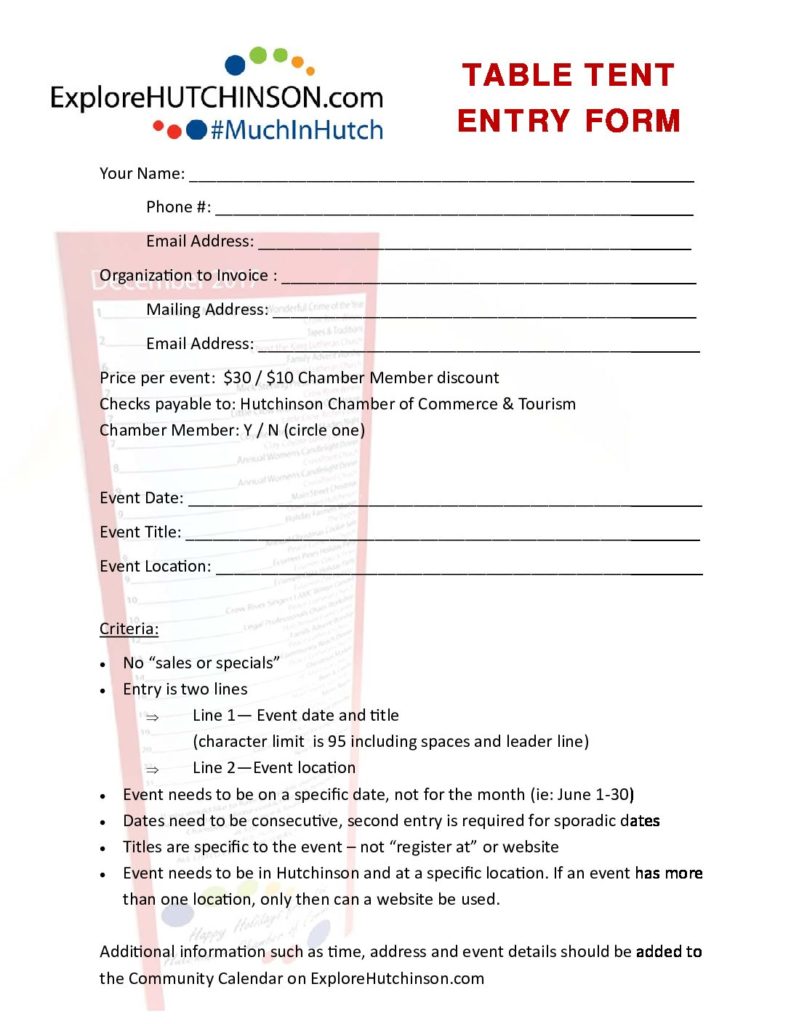 per event listing for community members and Chamber Members receive a $10 discount per event listing. Submitting an event is easy… just complete the printable Table Tent Entry Form and mail, email or drop it off at the Chamber.
Also, if you submit an event to our table tents, make sure to add it to our Community Calendar. The Community Calendar averages about 100 views a day, so don't forget to utilize it! Submitting an event to the Community Calendar may be done through your Chamber Member Portal or directly on the Community Calendar page!
The deadline for Quarter 2 (April, May & June) is March 1.
If you want table tents delivered to your business or if you want to submit an event for an upcoming table tent, please contact Gina by phone 320-234-0786 or by email [email protected].
---
Save the Date!
January 10 = BAH Melchert Hubert Sjodin
January 18 = Annual Chamber Event & Community Awards
June 7 = Dairy Days
July 18 – 20 = Crazy Days
July 22 = Hometown Golf Challenge
September 13 – 14 = Arts & Crafts Festival
November 30 = Small Business Saturday
---
More Information for Your Business to Grow!
---
---