The Chamber would like to introduce our newest program
These are morning networking events that take place from 7:00 am – 8:00 am on the first Friday of each month at a Chamber business. Chamber Members are invited to gather, enjoy coffee and a light breakfast, share a quick update or information on their business/organization, and learn more about the host business through a presentation. We will always have Chamber updates for you as well.
Door prizes will be given out, so make sure you bring your business card to be entered into the drawing. This new networking opportunity is a great way to get to know people in the community and keep in touch with Hutch!
If you are part of a Chamber business/organization and interested in attending, please register online in the link provided below. Multiple guests per organization are welcome, just remember to register!
Please join us for the Chamber's very first Business Connection at Ashley Homestore on Friday, March 1 from 7:00 am to 8:00 am.
Registration Link for March's Business Connection
---
Passing of the Gavel – Chamber Board Chair
The Chamber takes this opportunity to thank 2018 Chamber Board Chair Keith Heikes for his service to the Board and to each of us in the past year; and we welcome the 2019 Chamber Board Chair Roman Bloemke into that position.
The Chamber would also like to thank the outgoing Chamber Board Member for their committed service.
2018 and 2019 Chamber Board Chairs Keith Heikes and Roman Bloemke are pictured below awarding those outgoing members: Renee Hantge, Scott Ziegler, Corey Stearns and Nate Johnson.
---
Passing of the Gavel – Hutchinson Ambassadors
The Chamber takes this opportunity to thank 2018 Ambassador President Christine Ruppert for her service to the Ambassadors and to each of us in the past year; and we welcome the 2019 Ambassador President Leah Watzke into that position.
---
Thank you for your support at the Chamber Annual Event and congratulations to the 2018 Community Award Winners!
Thank you to everyone who helped make the 2019 Chamber Annual Event – 80's
Prom – A Night Under the Stars a huge success! A special thanks to our event supporters – Compass Occasions, Crow River Floral & Gifts, Crow River Winery, Innovative Foam, The Paint Factory and Walmart; to our event sponsors – Citizens Bank and Trust Co, Hutchinson Health, MidCountry Bank, MITGI and Uponor; and finally to the event music sponsor – Woodstone Senior Living. Our deepest gratitude to them for supporting our event.
We would also like to thank our Visionary Sponsor: Citizens Bank and Trust Co. and our Champion Sponsors: 3M, Cobblestone Hotel & Suites, Hutchinson Health, MidCountry Bank, MITGI, SouthPoint Financial Credit Union and Uponor.
The Hutchinson Chamber of Commerce and Hutchinson Jaycees are excited to announce the Community Award Winners. The winners are (from left to right) Business Person of the Year – William "Bo" Young, Teacher of the Year – Mackenzie Boeckers, Volunteer of the Year – Jackie Backen, Young Leader of the Year – Andrew Broll and Ag Person of the Year – Ted Matthews!
---
2019 Tourism Marketing Grant – Reminder – Deadline March 1!
The March 1st deadline is quickly approaching for the Hutchinson Tourism & Marketing Grant. Grants are available for no-for-profit events and events and for-profit events that are marketing outside a 30-mile radius of Hutchinson.
More information about the Tourism Marketing Grant program, grant criteria and grant application can be found on our Tourism Marketing Grant blog.
2019 Tourism Marketing Grant Criteria, Deadlines and Application (pdf)
---
Maximize Your Membership!
Job Postings for Chamber Members — Are you looking for qualified applicants to fill open positions at your business? Post you job openings on ExploreHutchinson.com through your Chamber Membership. Use us a a trustworthy resource to get the word out about your available positions. We reference these job postings and share on our Facebook page! Click on the image below for instructions or call the Chamber with questions.
---
Table Tent – Quarter 2 (April, May & June) Deadline – March 1st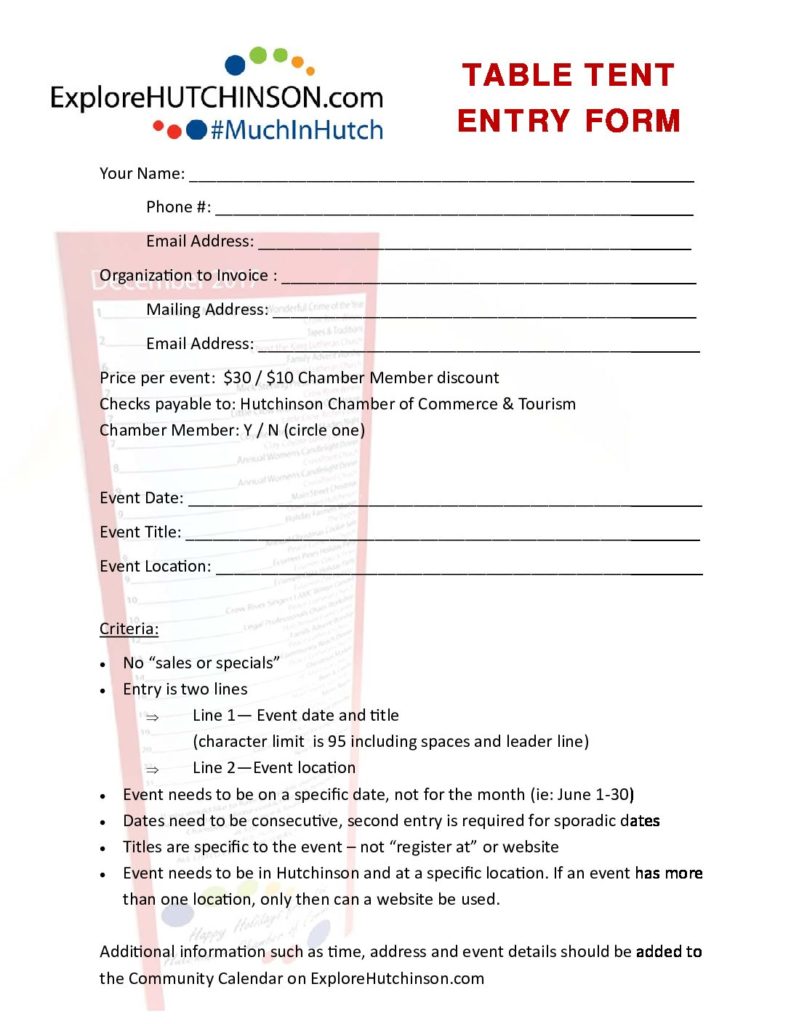 Are you looking for a way to boost an upcoming Hutchinson event? The  Chamber prints and delivers 900 table tents around the community. Make sure you get your event added to the table tents! The cost is $30 per event listing for community members and Chamber Members receive a $10 discount per event listing.
Submitting an event is easy… just complete the printable Table Tent Entry Form (pdf) and mail, email or drop it off at the Chamber by the quarterly deadline.
The deadline for Quarter 2 (April, May & June events) is March 1, 2019.
Also, make sure to add it to the Chamber's online Community Calendar. The Community Calendar averages about 100 views a day, so don't forget to utilize it. Submitting an event to the Community Calendar may be done through your Chamber Member Portal or you can go directly to the Community Calendar page.
If you want table tents delivered to your business, to submit an event for an upcoming table tent or if you have any questions, give Gina a call,  send her an email or drop by the Chamber.
---
New & Returning Members
We would like to welcome our new members to the Hutchinson Chamber of Commerce!
We also want to thank the following members for renewing their partnership with us!
Ace Hardware
Albers Insurance
American Family Insurance
Chef Craig's Catering
Disable American Veterans
Dobratz Hantge Chapel
E.G. Rudd & Sons, Inc.
Family Rexall Drug
Hager Jewelry Inc.
Holiday
Hutchinson Area Dollars for Scholars
Hutchinson Co-op
Hutchinson Countryside Retreats
Hutchinson Downtown Association
Hutchinson Family Dentistry
Hutchinson Leader
Hutchinson Lions
Kock's Jewelry, Inc.
L & P Supply Co.
Laraway Roofing, Inc.
McDonalds of Hutchinson
McLeod County Abstract and Title
Melchert Hubert Sjodin
MidCountry Bank
Redline Systems
Runnings
Skyview Dairy, Inc.
Southwest Initiative Foundation
Today's Women of Hutchinson
Viking Coca Cola
Walgreens
West Central Industries
Zellas
---
Business of the Month
Our February Business of the Month is Adara Home Health! You may formerly know this business as Prairie River Home Care – find out more about their new brand and what Adara Home Health has to offer residents in the Hutchinson Community on the Business of the Month Profile Page.
---
The Hutchinson Ambassadors serve as the welcoming and social arm of the Hutchinson Chamber by actively supporting and promoting Hutchinson and its surrounding business community.
The Ambassador's Facebook page is a great place to see photos of all the visits and other special events hosted by the Ambassadors.
You may have seen our Ambassadors around town – you can recognize them by their blue shirts and friendly smiles. They welcome new business openings, as well as, celebrate business renovations and milestones with an Ambassador Business Visit.
January's Ambassador Business Visits:
Lifelong Veterinary Clinic
Jrr. Yoga
ForTykes
Business After Hours is a great way to learn about businesses in Hutchinson and network with the fellow Chamber Members. This is a way to get behind the scenes on our local businesses… to see what they make, do or provide. This monthly event is by Chamber invitation only and is open to all Chamber Member business employees. Businesses interested in hosting a Business After Hours event or would like more information should email the Ambassadors.
If you are the only primary representative with your business receiving emails from the Chamber, please invite all your employees to join us! Preregistration is strongly encouraged, so our business hosts may plan accordingly.
February Business After Hours has been cancelled. The Chamber and Hutchinson Ambassadors encourage everyone to enjoy the Valentine's holiday by thinking local. Support your local businesses by shopping, dining and playing local this Valentine's Day!
---
Professionals Under 40 Leading Socializing and Educating
PULSE meets for Lunch & Learn events on the second Wednesday of each month from 12pm-1pm at Squeaky's Grill and Bar. The events are free to attend, a $10 lunch option is available.
The group also gets together at quarterly social events  (green dates listed in calendar below). Like the PULSE Facebook page to get the latest event information and registration links. Register for the February 13th Lunch & Learn by Friday, February 8th to be entered into a $25 gift card drawing! February 13th Lunch & Learn Registration

---
Something from Mary!

What if there was no chamber in Hutchinson?
Sometimes people ask "what does the chamber actually do?"
The rest of Mary's article can be found on February's Something from Mary blog.
---
Save the Date!
FEBRUARY
5        PULSE Social Event
13     PULSE Lunch & Learn
MARCH
1       Business Connection
13     PULSE Lunch & Learn
14     Business After Hours
APRIL
5        Business Connection
10     PULSE Lunch & Learn
11     Business After Hours
MAY
3        Business Connection
8        PULSE Lunch & Learn
9        Business After Hours
15      Leadership Institute 2018-2019 Graduation
JUNE
7        Dairy Day
12     PULSE Lunch & Learn
JULY
10       PULSE Lunch & Learn
18-20  Crazy Days
22       Chamber Golf Event – Oakdale
AUGUST
14        PULSE Lunch & Learn
14-18  Made in McLeod @ County Fair
SEPTEMBER
11          PULSE Lunch & Learn
13/14    45th Arts & Crafts Festival
13/14    Taste of Hutchinson
19/20    Leadership Institute 2019-2020 Begins
OCTOBER
Farm Fatigue Buckets Delivered
9        PULSE Lunch & Learn
10      Business After Hours
 
NOVEMBER
13     PULSE Lunch & Learn
21     Taste of the Holidays
30     Small Business Saturday
DECEMBER
Crop Management Input Seminar
12     Holiday Business After Hours
---
More For Your Business To Grow…
---
---