Farm Fatigue "Bucket of Thanks" Event 2019
Each harvest, our AgriBusiness Committee works hard to deliver buckets of goodies to our farmers in the fields in McLeod County.
If you business is interested in supplying goodies or money for this program, please complete the printable 2019 Farm Fatigue Bucket form (pdf) and mail, email or drop it off at the Chamber by the deadline, Friday, September 6.
---
45th Hutchinson Arts & Crafts Festival September 13 – 14
The 45th Annual Hutchinson Arts & Crafts Festival will be held on Friday, September 13 and Saturday, September 14 in beautiful Library Square Park in downtown Hutchinson. This event will feature handmade crafts in the following categories: accessories, artwork, bath, clay, clothing, dolls, fabric/fiber, floral, furniture/home accents, games/toys/books, glass, gourmet, jewelry, leather, metal, painting, photography, seasonal, wood and much much more.
Conversely, if you are an artisan and interested in vending at the Arts & Crafts Festival, applying is easy! Just complete the printable Hutchinson Arts & Crafts Festival Exhibitor Application & Guidelines (pdf) and mail, email or drop it off at the Chamber! An online Hutchinson Arts & Crafts Festival Exhibitor Application & Guidelines is also available.
For any questions, please contact the Chamber at 320-587-5252 or email us.
---
Taste of Hutchinson
The Hutchinson Ambassadors host the Taste of Hutchinson on September 13 & 14 along side the Arts & Crafts Festival. Delectable food options and live music awaits all patrons! See you there!
---
Hutchinson Leadership Institute & Leadership 2.0 Enrollment for 2019-2020 is now open!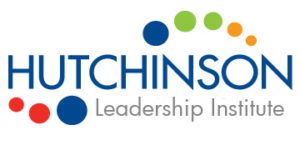 We are happy to announce the Hutchinson Leadership Institute is back for its 31st year! The Hutchinson Leadership Institute is hosted by the Hutchinson Area Chamber of Commerce and Tourism. This comprehensive program is designed to build community leaders. Over the period of nine months, participants will experience 10 days of training and classes. Each participant will be assigned to a group service project, which will assess community needs, determine a project, and facilitate the project working with other community members and/or groups.
Once you have completed the Leadership program, you can participate in Leadership 2.0! The 2.0 program takes a deeper dive into personal leadership and how it can impact the future of the entire community.
Click link for application: Hutchinson Leadership Institute (pdf) or Hutchinson Leadership 2.0 (pdf)
If you have questions about this program please email Mary call 320-234-0785.
---
Crazy Days ~ thinkLOCAL Thank You!
Thank you to businesses that participated in Crazy Days and the Chamber's .5k Receipt Run Race to Savings! What a great way to see how thinking local can impact our community! Also, a special thanks to our volunteers — our events would not be a success without you!
Check out our Facebook page to view event video.
---
Hometown Golf Challenge Thank You!
We would like to thank everyone that joined us for the 2019 Hometown Golf Challenge Tailgating event on July 22 at the Oakdale Golf Club. The event would not be possible without our mighty volunteers and the businesses that donated to and sponsored this event. THANK YOU all for your time, talents, donations and support!! A special shout out to the Oakdale Golf Club's Mike Knodel and his staff! 
Last but never least, we would like to acknowledge our Event Sponsors, Champion Sponsors and Visionary Sponsor. Our deepest gratitude to these businesses for their generous support.
Visionary Sponsor – Citizens Bank & Trust Co.
Champion Sponsors – Hutchinson Health, MidCountry Bank, MITGI and SouthPoint Financial Credit Union. 
Welcome Sponsors – MITGI
Staffed Hole Sponsors – Asset Protection & Restoration Inc, Buffalo Wild Wings, Caspers Chiropractic Center, Edina Realty – Erika Kellen, Hutchinson Health, MidCountry Bank, MnDOT, Ridgewater College, State Farm – Steve Kropp, and Woodstone Senior Living Community.
Hole Sponsors – Ashley HomeStore, Cash Wise Foods, Compass Occasions, Crow River Winery, Fairway Mortgage Company, First Minnesota Bank, Goebel Fixture Company, Heartland Ag Systems, Hometown Realty, Hutchinson Dental Center, Hutchinson Leader, Hutchinson Manufacturing, Iron Jungle Crossfit, LBC of Hutchinson, Novation Credit Union, Nuvera, Piehl Hanson Beckman PA, Plumbing and Heating by Craig, State Farm – Mike McGraw, The Tiger Pro Shop / Branded Solutions, TDK Hutchinson Technology, Uponor, Valley Sales of Hutchinson and Walmart Supercenter.
Hole-In-One Sponsors:  Citizens Bank & Trust Co and Factory Direct Furniture.
See you next year!
Check out our Facebook page to view event photos.
---
2019 Tourism Marketing Grant – Reminder – Deadline September 1!
The September 1 deadline is quickly approaching for the Hutchinson Tourism & Marketing Grant. Grants are available for not-for-profit events and for-profit events that are marketing outside a 30-mile radius of Hutchinson.
More information about the Tourism Marketing Grant program, grant criteria and grant application can be found on our Tourism Marketing Grant blog.
2019 Tourism Marketing Grant Criteria, Deadlines and Application (pdf)
---
Business Connection – September 6

Thank you to everyone that registered for August's Business Connection scheduled for Friday, August 2 hosted by Buffalo Wild Wings. It will be a blazin' good time I am sure! Also, sending a special shout out to Cliff Cleveringa and his staff – the do such a great job!
Please join us for September's Business Connection hosted by New Discoveries Montessori Academy on Friday, September 6 from 7:00 AM to 8:00 AM at 1000 5th Ave SE. See how New Discoveries Montessori Academy enables children to share and contribute their unique talents in the world.
Business Connection is a morning networking event that takes place at a Chamber business on the first Friday of each month from 7:00 AM to 8:00 AM. Chamber members are invited to gather, enjoy coffee and a light breakfast, share a quick update or information on their business/organization. We will always have a Chamber update for you as well.
Door prizes will be given out, so make sure you bring your business card to be entered into the drawing. The new networking opportunity is a great way to know people in the community and keep in touch with Hutch!
If you are part of a Chamber business/organization and interested in hosting or have questions about Business Connection, call the Chamber or send us an email.
Online registration for September Business Connection
---
Business After Hours
With the many festival and events that happen in Hutchinson over the summer, Business After Hours goes on hiatus in August and September –but will be back on October 10th!
Business After Hours is a great way to learn about businesses in Hutchinson and network with fellow Chamber members. This is a way to get behind the scenes at our local businesses… to see what they make, do or provide. This monthly event is by Chamber invitation only and is open to all Chamber member business employees. Businesses interested in hosting a Business After Hours event or would like more information should
email the Ambassadors
.
If you are the only primary representative with your business receiving emails from the Chamber, please invite all your employees to join us! Preregistration is strongly encouraged, so our business hosts may plan accordingly.
---
Maximize Your Membership!
Looking for a way to highlight a message from your business? How about having the Chamber send an email on your behalf from our Chamber account to literally hundreds of subscribers? Let's have a blast with your email!
With a Spotlight Email, the Chamber will highlight a message from your business in one of our newsletter emails or other monthly updates. Your business or organization will be recognized in the subject line and your message will be a main bullet point in the email sent out. The Spotlight Email can be added to your membership as a 1 point option.
A Custom Email is an email sent on your behalf from the Chamber account to our over 700+ subscribers. The Custom Email can be added to your membership as a 2 point option.
Click on the image to the right for instructions or call the Chamber with questions.
---
Table Tents Quarter 4 (Oct, Nov & Dec) Deadline – September 1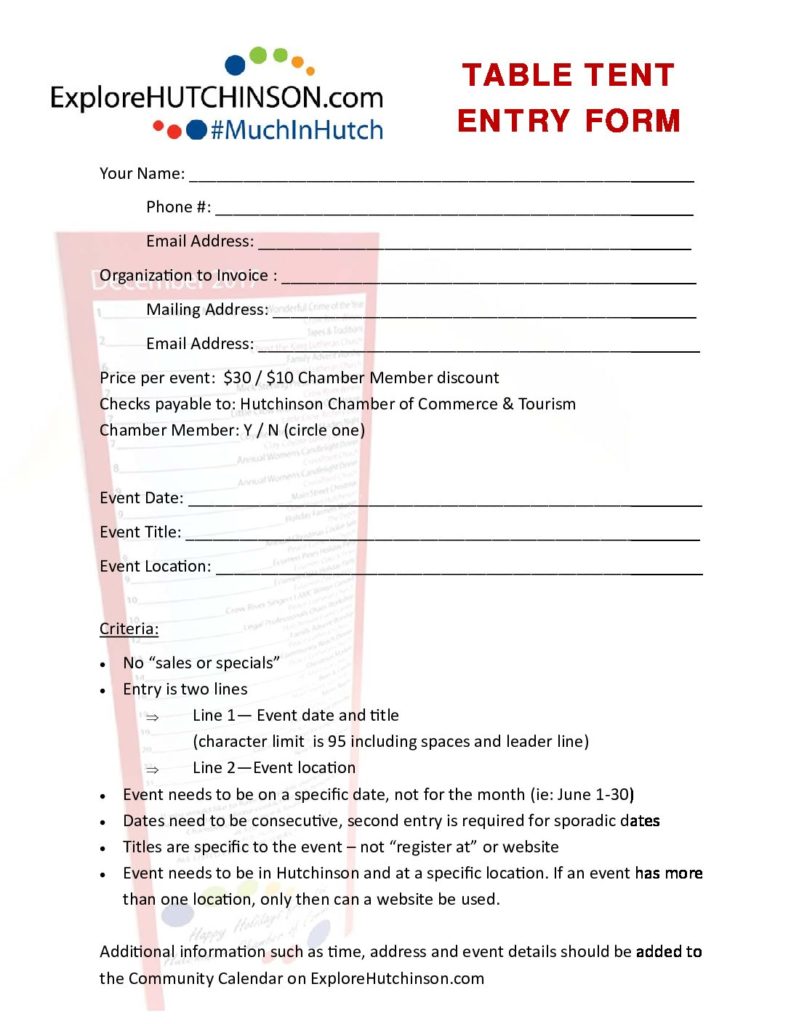 Are you looking for a way to boost an upcoming Hutchinson event? The  Chamber prints and delivers 900 table tents around the community. Make sure you get your event added to the table tents!
The cost is $30 per event listing for community members and $20 for Chamber member per event listing. Submitting an event is easy… just complete the printable Table Tent Entry Form (pdf) and mail, email or drop it off at the Chamber by the quarterly deadline.
Also, if you submit an event to our table tents, make sure to add it to our Community Calendar. The Community Calendar averages about 100 views a day, so don't forget to utilize it! Submitting an event to the Community Calendar may be done through your Chamber Member Portal or directly on the Community Calendar page!
The deadline for Quarter 4 (October, November & December) is September 1.
If you want table tents delivered to your business or if you want to submit an event for an upcoming table tent, please call the Chamber or email the Chamber.
---
New & Renewing Members
We would like to welcome our new members the the Hutchinson Chamber of Commerce!
We also want to thank the following members for renewing their partnership with us!
AmericInn Lodge & Suites
Canvasworks, Inc
Casey's General Store
Century 9 Theatre
Clay Coyote Gallery & Pottery
Crow River Habitat for Humanity Inc
Edward Jones – Nick Pederson
Evergreen Apartments
Hutchinson Dental Center
Immanuel Evangelical Lutheran Church
Maytag Laundry, Tanning & Car Wash / Maytag Laundry & Car Wash
New Century Academy
Papa Murphy's Take-N-Bake Pizza
Re/Max Results
Upper Midwest A-C Club
Vivid Image, Inc
Winn Exteriors LLC
United Community Action Partnership, Inc
---
Business of the Month
The Chamber's Business of the Month program is a free marketing opportunity that is only available to Chamber Members. The featured business is interviewed on KDUZ by Mary, the business logo and company information will be featured on the Chamber's website for one month, we will put your logo and information in the Chamber's monthly newsletter, as well as the Chamber highlighting your business in the Hutchinson Leaders' business section.
If you are interested interested in this opportunity, please email Mary or call Mary at the Chamber.
---
The Agri-Business Committee, a committee of the Hutchinson Chamber, is a group of community members who focus on the educational and support needs of our agricultural businesses.
Throughout the year Agri-Business hosts the February Ag Seminar, June Dairy Day and a special program in conjunction with our neighbor the Glencoe Chamber- Farm Fatigue. These events can be found on our Community Calendar.
Visit our Agri-Business page for more information on the committee, events and sponsorship opportunities.
---
The Hutchinson Ambassadors serve as the welcoming and social area of the Hutchinson Chamber by actively supporting and promoting Hutchinson and its surrounding business community.
The Ambassador's Facebook page is a great place to see photos of all the visits and other special events hosted by the Ambassadors.
You may have seen our Ambassadors around town – you can recognize them by their blue shirts and friendly smiles. They host Business After Hours, welcome new business openings, as well as, celebrate business renovations and milestones with an Ambassador Business Visit.
July's Ambassador Business Visits:
---
Professionals Under 40 Leading Socializing and Educating
PULSE, a committee of the Hutchinson Chamber, is a group of  Professionals Under the age of 40 who asked themselves that same question and then created the answer. Our goal is to help young people in the Hutchinson area become better Leaders, create a concrete Social network with professional value, and continue to Educate themselves on important life and business topics.
PULSE meets for Lunch & Learn events on the second Wednesday of each month from 12:00 PM – 1:00 PM at Squeaky's Grill and Bar. The events are free to attend, a $10 lunch option is available.
The group also gets together at quarterly social events  (green dates listed in calendar below). Like the PULSE Facebook page to get the latest event information and registration links. Register for the August 14 Lunch & Learn by Friday, August 9 to be entered into a $25 gift card drawing! August 14 Lunch & Learn Registration
---
thinkLOCAL is a Chamber program is designed to share important information with the community on how local businesses, big or small, contribute to a strong local economy. Every business can play a part if sharing the importance of spending money locally before going online or out of town.
Locally owned, independent businesses recycle a higher percentage of profits back into the local economy
Local businesses also keep tax dollars in our community to support schools, parks police & fire departments, and much more.
Customers benefit from expertise offered by local businesses. Also, at a local store you're as much as 3x more likely to discover something new.
Shopping local means enjoying lively streets and bumping into friendly faces. You support businesses who support community events and organizations.
During the year, thinkLOCAL committee hosts Crazy Days (July) and Small Business Saturday (Saturday after Thanksgiving). Both events encourage local spending and are just an all-around fun time!
Visit our thinkLOCAL page for more information on how you can make a difference; as well as check out our free resources and materials for businesses.
---
Something from Mary!
Hands Free, Free Time
As the Hands-Free law goes into place today, August 1, 2019, I am thinking about the many times, we should put down our phones…
Answers to these question can be found on August's Something from Mary Blog.
---
Save the Date!
AUGUST
2          Business Connection – Buffalo Wild Wings
14        PULSE Lunch & Learn
14-18  Made in McLeod @ County Fair
SEPTEMBER
6        Business Connection – New Discoveries Montessori Academy
11      PULSE Lunch & Learn
13-14    45th Arts & Crafts Festival
13-14    Taste of Hutchinson
19-20    Leadership Institute 2019-2020 Begins
OCTOBER
Farm Fatigue Buckets Delivered
4        Business Connection – Adult Training & Habilitation Center Inc
9        PULSE Lunch & Learn
10      Business After Hour – Stamp N Storage
NOVEMBER
1        Business Connection – Ecumen Oaks & Pines
13     PULSE Lunch & Learn
21     Taste of the Holidays
30     Small Business Saturday
DECEMBER
Crop Management Input Seminar
6      Business Connection – Jay Malone Motors
12     Holiday Business After Hours
---
More Information For Your Business To Grow…
---